The Ultimate Guide to Madrid for Young Adults (Things to Do, Places to Stay & Tips)
Madrid is the ultimate spot for young adults who want to let their hair down and explore all of the beauty that the capital of Spain has to offer.
This vibrant city is known for its rich history, diverse culture, and buzzing nightlife. The city is packed with charming neighborhoods, pedestrian-friendly zones, a rich history, and amazing architecture that is sure to blow you away!
Indulge in the local food and drinks before being soaked up by the after-dark atmosphere that is so contagious you won't want to miss it.
As someone who's just spent a week traveling in Madrid, I have to say that Spanians do know how to live a quality life.
The generosity and welcome from the locals of Madrid have been the best I have come across so far, setting the bar for the rest of Europe very high.
I wanted to write this blog for other young travelers who want to explore Madrid as I did. Learn from my mistakes and do Madrid the correct way while still being on a tight traveler's budget!
So let this blog act as your tour guide, skip all the stress of not knowing where to go, and instead wander the neighborhoods like a local.
This article is jam-packed with all the important information you need to know, from:
Where to stay
What activities to do
How to travel on a budget, and
Other tips to ensure you have the best time abroad.
So, strap in and explore this guide before you discover Spain! Start your trip by knowing all the cheeky tips that will help you explore and understand Madrid more intimately. Remember: Spanians do know how to live life better!
Best Things To Do In Madrid for Young Adult
Madrid is full of many amazing activities and places to see and visit; it's always difficult to know where to start!
Trust me – I visited just a couple of weeks ago and could have happily spent a few more exploring the city.
However, after my short week in the capital, I have come away with many recommendations as to how I would explore the city differently in the future.
So to prevent you from making the same mistakes as I did, I have come up with a list of some of the must-do activities, sights to see, and places to be.
Make sure to check out my list of recommendations. I have marked my top 6 ideas with *, where I go into more detail to guide you in the right direction.
1. Visit Retiro Park
Retiro Park, the green oasis of the city, is a must-visit spot in Madrid!
The park covers over 125 hectares and comprises upwards of 15,000 trees. The oldest tree in El Retiro is 627 years old and is dated back to 1396.
It's planted in one of the meadows near the Gate of the Fallen Angel and is a monument now attracting many tourists. The park is also filled with plenty of sculptures and fountains.
Retiro Park is a great place to keep active! Visit with friends or alone and enjoy the paved paths and greenery.
I recently ran here and was shocked by how many locals use the facilities. I loved seeing everyone out and about keeping active; there were groups young and old, rollerblading, walking, running, and biking.
This park is also very popular amongst the children with a variety of playgrounds dotted around the park.
As of July 2021, El Retiro Park has now been declared a UNESCO World Heritage Site. The park was said to hold "outstanding universal value" with its culture, science, and nature in the park all dating back to the mid-16th century.
Another way to enjoy the park is to bring a group of your friends down with a picnic. It is a great way to socialize, people watch – and of course, enjoy all the natural beauty that El Retiro Park has to offer!
2. Explore The Malasaña Neighborhood
The Malasaña neighborhood is one of my favorite spots to explore. It is a student-friendly neighborhood with an abundance of coffee shops, restaurants, and tapas bars, and is home to some of the best thrift shopping in Madrid.
The historic square also hosts some cool markets on the weekend which draws in a great crowd of diverse young people.
The nightlife is electric here and the streets come alive after dark. Visit the cocktail bars, restaurants, pubs, and clubs later on in the night! The drinks are very affordable for young travelers so sticking to your daily budget is quite easy here.
Café Manuela is a must-visit place on a night out. I recently visited with a group of friends and had one of the best nights ever!
The atmosphere is electric and the cafe is full of young adults chatting, drinking, and playing board games. It is open until 2 a.m., making it the perfect place to have a few drinks before heading out to the clubs.
Be sure to soak up the good vibes, cheap prices, and amazing atmosphere that the Malasaña neighborhood has to offer!
3. Attend a flamenco show at Cardamomo
When visiting any area in Spain, it is mandatory to attend a flamenco show.
Cardamomo is home to some of the best flamenco dancing in the capital and showcases both national and international artists. Every day Cardamomo has 10 artists who perform a show for their guests.
The unique thing about these shows is that while they have 4 shows a day, every single show is different because of the talented musicians who look to surprise the audience by adding or changing certain beats.
A flamenco show is one of the best ways to start your night! I attended one recently in Madrid and was blown away by the talent in the room. The whole show was a journey and you do become completely mesmerized by the way the artists can move.
The show is perfect for young adults and you're even given a complimentary glass of wine on entry. What's not to love?
4. Dance the night away at Teatro Barceló nightclub
If you are feeling like having a big night, then Teatro Barcelo nightclub is the spot for you!
The nightclub hosts the biggest parties and events every week and has a capacity of 1,200 people.
The club itself is truly like another world. It has three different floors which all play different music, and as you swap from room to room you will feel like you're at a different party even though you're still in the same space!
Teatro nightclub is in the center of Madrid and is surrounded by plazas and other restaurants. Getting to this club isn't difficult as it's within walking distance from most of the recommended neighborhoods.
The club is a 15-minute walk from Malasaña and La Latina and only a 7-minute walk from Chueca.
Entry to this club can be stricter than in other places in Madrid; this is due to the high demand for attending. Make sure you are well dressed and have a valid ID. This club has a minimum age of 23 for ladies and 24/25 for men.
Hot tip: Show up around 12.30 a.m. to avoid big lines!
5. Check out the El Rastro flea market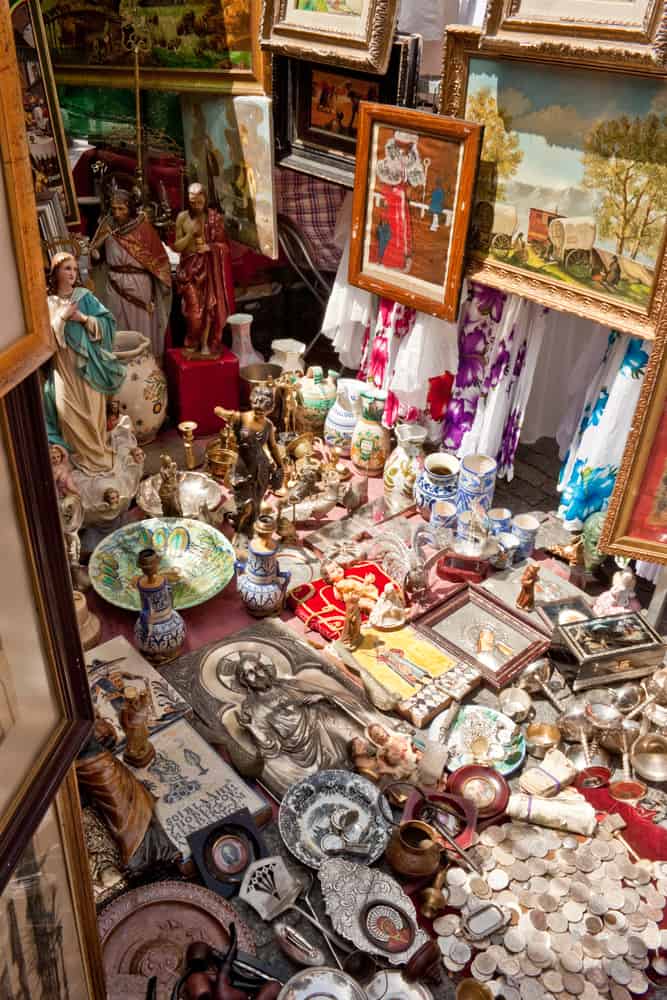 The El Rastro Flea Markets should be on your list to visit.
This is my favorite market as it's tucked away in the La Latina neighborhood and has some of the coolest vintage clothing and jewelry! With over 700 stalls, you're going to want to take your time looking through it all.
The El Rastro market is on every Sunday from 9 am to 3 pm. I would recommend getting going earlier to avoid missing out on all those rare finds, and it usually is busiest around 11-12 p.m.
This market is rich in history, with documents stating that the market has been around since the 1700's.
Making your way to the El Rastro market is easy if you choose to stay in the La Latina neighborhood. However, don't worry too much if you don't, as the markets are within walking distance from most central neighborhoods! It will take you a 30-minute stroll from Chueca, Malasaña, and El Retiro.
After thrifting your heart out, you should definitely check out some of the local bars and cafes in the area. They are full of locals who have finished doing their shopping at the El Rastro markets.
Make sure you try a piece of tortilla from one of the bars – cheap and delicious!
6. See a football match at Santiago Bernabéu Stadium
If you are into sports, then watching a live football match is something you shouldn't miss out on!
Madrid football fans are one of a kind and love to cheer, sing, chant, and get rowdy. The stadium holds 81,000 people so you can imagine the atmosphere they create at the games is like no other.
Real Madrid is known for being one of the best football clubs in the world and has a large fan base which even includes celebrities like Tom Cruise.
So whether you're a football fan or just here for the vibes, then attending a game is well worth it.
7. Take a paddle boat out on Casa de Campo's lake
Casa de Campo Lake is man-made and sits within the biggest park in Madrid, Casa De Campo Park.
It is located to the west of the center of Madrid and covers 4257 hectares. The park is five times the size of New York City's Central Park, making it the perfect place to explore!
The lake is situated in the middle of the park and is a great place to relax and enjoy the views.
Hiring a paddle boat is a great activity to do with friends as you get to explore the area while having a laugh and making new memories.
The boat hire is very affordable and usually costs 6 euros per 45 minutes. A boat can hold a maximum of four people and is available from 10:30 a.m. through to dusk.
So, grab your friends and enjoy a beautiful sunset while paddle boating around Casa De Campo Lake!
8. Night out at Kapital, a seven-story nightclub.
Kapital nightclub will make you feel like you're in a different world. This seven-story nightclub is full of diverse music that caters to all, so it's no wonder it's so popular amongst the locals and tourists.
Submerge yourself into each level and get lost in all the great music. On the seventh floor of this club is a rooftop bar, where you can have a smoke break or recover from all that dancing!
Pricing can be a little steep and usually costs around 30-45 euros per person, but this does get you two complimentary drinks. This club is the sort of place you have to try out at least once – especially if you're a big partygoer who loves to boogie!
The club is only open Thursday-Saturday from 12 am-5.30 am. It is recommended to arrive around 12.30 to guarantee access to the club.
Traveling Madrid on a Budget
Exploring Madrid on a budget is achievable so long as you follow your budget plans and prioritize the places you want to see.
As a young traveler who has been on the road for months, I have had to learn how to save my money when I can.
Madrid is a very affordable place for young budget travelers. Make sure you stay in an area you can afford, and explore the city on foot. There is no point wasting money on Uber and public transport when everything is accessible by walking!
Below are a few ways I helped to keep my costs down in Madrid:
Stay in a neighborhood that you can afford
Look for accommodation that has kitchen facilities so that you can cook your meals
Instead of buying drinks in bars or clubs, find a cheap wine and enjoy it with friends before heading out
Explore Madrid on foot
Only pay for excursions that you know you want to do
Set daily limits. If you go over budget one day, make sure to be under budget the next day!
The Best Places To Stay In Madrid For Young Adults
When visiting Madrid in the summer months, it is important to book accommodation in advance to avoid paying double the amount of what you should.
This is because, like any European city, the summer months in Madrid become busier – which means hostel and accommodation chains can put their prices up without worrying that they won't sell out!
Below are five of the most popular areas to stay in:
Centro. Puerta del Sol square
Malasaña
Chueca
La Latina
Retiro
I liked basing myself in a central area of Madrid where reaching nearby neighborhoods on foot was manageable.
If you are a solo traveler, check Hostel World for recommendations and reviews before using Booking.com to finalize your stay.
I recommend using Booking.com because you can see reviews of past guests as well as collect loyalty points that land you discounts and upgrades.
Centro, Puerta Del Sol Square
Staying in the epicenter of Madrid is always lots of fun. It makes exploring and sightseeing so much easier as you won't need to spend time and money on public transport!
It is one of the busiest and most well-known areas in the city and is home to the famous Puerta del Sol clock (a must-see attraction in Madrid, by the way).
Around this area is also an abundance of cafes and restaurants to quench your thirst and leave you feeling full and satisfied! If you are a shopaholic, the center is also packed with both unique and chain retail stores.
When visiting or staying in the square, please remember to be weary of pickpockets. Like everywhere in Europe over those peak summer months, you can never be too safe.
Although the accommodation in the square isn't the cheapest, it is still manageable (especially if you are traveling with others). Make sure you check out Airbnb to split the price and make your stay even more affordable.
Here is a list of my top three places to stay in the square:
B&B HOTEL Madrid Centro Puerta del Sol: This is perfect if you are traveling with someone else!

The cost of a room is around 88 euros for two people per night. The accommodation is as central as it gets and is worth it if you're looking for a more private place
The Central House Madrid Lavapiés: Located just 700 meters from the square, this is the perfect hostel to meet new people and explore everything Madrid has to offer.

To have a bed in an 8-bed dorm room will cost you around 47 euros, which is pretty standard pricing considering the location and facilities this hostel has to offer.

Pricing differs depending on the type of room you decide to go for. The options include staying in a smaller dorm room with 6 people, or 4 people or staying in a female-only dorm.
Apartamento estilo nórdico en Malasaña (Madrid Centro): If you are traveling with a group, staying in an Airbnb could be your best bet as it's private and works out to be cheaper when you divide the cost.

This Airbnb has a location score of 9.9 – which is pretty rare – and is 140 euros per night. However, the accommodation can host 4 people bringing the cost down to just 35 euros each! This is a great option to save money and enjoy what Madrid has to offer.
Malasaña
Malasaña is one of my favorite areas in Madrid and is where I stayed just a few weeks ago. I must say this is the perfect neighborhood to stay in as a young adult who wants to explore all areas of Madrid (including the nightlife!).
The neighborhood is known for being student-friendly and is home to some of the best coffee I have ever tasted.
Malasaña streets are filled with restaurants, bakeries, coffee shops, and of course the best thrift shopping in Madrid. The thrift shops are affordable and are stacked with vintage and recent brands, so make sure you go digging to find those hidden gems.
At night, Malasaña is where you want to be. Start your evening in one of the trendy tapas bars before popping over to one of the many board game pubs that allow you to play cards and enjoy the company of your friends while having cheap drinks on tap.
Then, as it gets later, explore some of the many pubs/clubs around the area and dance the night away! Remember that in Madrid the clubbing doesn't pop off until the early hours of the morning – so keep those dancing shoes on!
Below are a couple of recommendations for where to stay in Malasaña.
The Bastardo Hostel: Having just spent two nights at this hostel, I cannot recommend it enough!

First of all, the location is fabulous; it's only a block away from Malasaña and is surrounded by delicious restaurants and coffee shops.

The vibe is contagious here and would be a solo traveler's dream! It is also perfect for anyone who wants to meet new people or even groups who want a young trendy place to mingle.

The hostel rooms were nice and clean with amazing air conditioning, which is a must in the summer months.

The pricing is reasonable and sits at 59 Euros per night for a bed in an eight-dorm room. The prices vary depending on the capacity of the room.

I came to this hostel in a group of five. We were all impressed with the facilities and loved the number of activities the hostel put on for travelers to get to know each other. My favorite was the pub crawl!
Dúplex con Garaje en Malasaña: This apartment is situated in the heart of Malasaña and has a location score of 9.7!

If you are looking for accommodation for a larger group of people, then look no further than here. The average price is 200 Euros per night; however, it is for a group of four, taking the price down to 50 Euros per person. It's affordable and central – what's not to love?
Chueca
The Chueca neighborhood is known for being LGBT-friendly and full of diverse young adults, making it the perfect spot to explore and stay as a young traveler.
This vibrant location is jam-packed with cafes, tapas bars, restaurants, boutiques, and a great nightlife.
Popular markets including San Antón and Plaza del Dos de Mayo also take place in this neighborhood, so make sure to check all the boutique stores, yummy food, and thrift stalls that the markets offer.
The Chueca neighborhood is also known for its theaters and live shows, so if you're in the area then please go check it out.
Chueca is a very safe neighborhood for all to stay in, so if you have anxieties about being in a new city then this is the place for you! Additionally, the vibe is simply unmatched and so contagious.
Below are a few recommendations:
room007 Chueca Hostel: Chueca Hostel sits between the neighborhoods of Chueca and Malasaña, making it the ideal location to stay in.

The neighboring streets around the hostel are full of restaurants, bars, and shops with a lively pedestrian zone on the doorstep of the hostel.

Just 250 meters away is the San Anton Markets, and just a little further down the road is the Gran Via – famous for its theaters and shopping.

There's no excuse not to explore the area when it's all within a pedestrian walking zone!

The hostel itself offers dormitory rooms and private rooms too. So the price differs depending on what type of room you want.

For a single bunk bed in a dormitory room, the cost per night is usually around 20 euros – an absolute bargain!

For a private room, it is usually around 120 euros for two people. Both options are very affordable, making it too good of a place to pass up!
SmartRental Madrid Chueca– If you are traveling with a group of friends or family, then staying in an Airbnb would work well for you.

Smart Rental Madrid offers one-bedroom and two-bedroom apartments for a very reasonable price. For a group of 6 people, it's only 234 euros per night. That's just 39 euros per person per night!

The Airbnb is only 400 meters from Gran Via and is surrounded by unique shops, restaurants, and bars. This place was given a location rating of 9.3 by past guests.
La Latina
La Latina is an authentic neighborhood in Madrid and is a more popular place amongst locals than tourists, so if you're looking to be one with the locals and have a proper Madrid experience then look no further than La Latina!
Like several neighborhoods in central Madrid, the atmosphere becomes animated after dark. Restaurants and bars become the place to mingle, and you can enjoy your evening listening to the local talent, eating local cuisine, and devouring delicious drinks.
If you are visiting Madrid in mid-August, make sure to stay in this area! During and around the 15th of August, authentic celebrations to honor the Virgin of La Paloma take place. The streets become filled with high spirits and festive activities.
La Latina is also home to the El Rastro markets. I spent hours walking the streets of these markets, with stalls selling thrift clothing, second-hand clothing, jewelry, food, and much more.
Here are a few recommendations for accommodation in the La Latina area:
Classic Apt 7pax en el corazón de La Latina/Madrid: This is a perfect place to stay if you are traveling with a large group of people.

The entire apartment can host up to 7 guests and will cost you around 360 euros per night. Divided by 7, that's only 51 euros a night!

The apartment is located in the La Latina center and is only 700 meters from Plaza Mayor and Mercado San Miguel.

The apartment has three bedrooms, a washing machine, and air conditioning – a must in those scorching summer months.
Hostel MYD La Latina: Hostel MYD La Latina is a perfect spot to stay in if you're a young traveler looking to meet new people.

The hostel is situated in the La Latina district and is close to many popular bars and restaurants.

Staying at this hostel will cost you around 44 euros per night for a bunk bed, which is a dream for solo travelers on a budget!
Retiro
If you are a fan of El Retiro Park, then staying here might be the perfect option for you.
Enjoy your morning walks through the park before getting a coffee from one of the many coffee shops that surround the area. The man-made boating lake is a great place to sit back and people watch as well!
Retiro is considered one of the safest neighborhoods in central Madrid and is still full of many locals living their day-to-day lives.
The neighborhood surrounds the 3.1-mile park and is full of restaurants and bars – offering something to every tourist.
The one thing about the Retiro neighborhood is it's usually a destination for families to travel and stay in.
So if you are looking for a place with fewer kids, then one of the other neighborhoods listed above might suit you more.


Below are a few recommendations for places to stay in the Retiro neighborhood:
The Central House Madrid Lavapiés: The Central House Madrid offers dormitory-style accommodation and private rooms for those traveling in a bigger group.

The dormitory rooms start from 40 euros per night, per bed. Private rooms can be booked by groups of 4 to 8 and cost up to 380 euros per night. Divided equally, that's only 47 euros a night!

The location of this hostel is what sells it. Getting accommodation near El Retiro Park can be very expensive and hard to come by, but this hostel is an easy 25-minute stroll away from the famous park.

Other popular tourist areas near the accommodation include Plaza Mayor, Puerta del Sol, and Reina Sofia Museum.
Hotel Mediodia: If you are traveling with a friend or partner and want to stay somewhere a little quieter, then this is the best option for you.

Hotel Mediodia is Situated just a 5-minute walk away from El Retiro Park and located in the famous art triangle.

The hotel is full of rich history and dates back to 1914! You can still admire the original stained glass windows and the grand staircase at the entrance.

To stay in this hotel is very reasonable. For two people, it will cost just 100 euros per night. That's only 50 euros per person! Rooms are available for up to four guests.
Additional Tips For You
Consider getting a Madrid Card for discounts on attractions
If you want to explore all the local attractions and save money while doing so, then investing in a Madrid Card could be the best option for you!
It's so simple to use: Purchase a card online, from any metro station, at the main office of the Madrid Regional Transport Consortium, or in tobacco stores.
Then, all you need to do is to purchase a plan that best suits you! The options available include a 1, 2, 3, 4, 5, or 7-day pass.
Consider getting a Madrid Card for discounts on attractions
If you want to explore all the local attractions and save money while doing so, then investing in a Madrid Card could be the best option for you!
It's so simple to use: Purchase a card online, from any metro station, at the main office of the Madrid Regional Transport Consortium, or in tobacco stores.
Then, all you need to do is to purchase a plan that best suits you! The options available include a 1, 2, 3, 4, 5, or 7-day pass.
The pricing for the Madrid card is below:
Madrid card 24-hour: 47 Euros
Madrid card 48 hours: 60 Euros
Madrid card 72 hours: 67 Euros
Madrid card 120 hours-: 77 Euros
Though this might look pricey to a young traveler, trust me when I say it all adds up and you end up saving those big bucks!
The pass gets you into a list of some of the must-visit spots in Madrid. This includes:
Prado Museum
Royal Palace of Madrid
Reina Sofia National Art Museum
Palacio Real Del Pardo
Thyssen-Bornemisza Museum
Royal Botanical Gardens
Temple of Debod
Plaza De Toros de las Ventas
La Almudena Cathedral Museum
Wax Museum.
Additionally, the pass also gets you discounts on loads of other museums and other cultural and leisure attractions.
The pass also includes a travel pass, allowing you to travel around most of the city on public transport for free, as well as a fast pass which lets you skip the line to some of the main tourist attractions.
So, if you want to visit all the main attractions in Madrid, do yourself a favor and save those pennies by purchasing one of the amazing Madrid pass cards!
Use public transportation/ rent bikes or explore the city on foot
Madrid is one of the best cities to explore on foot. The city's well-planned layout, charming neighborhoods, and pedestrian-friendly zones make it a paradise for explorers of all ages.
After spending a week exploring the city by foot, I left feeling satisfied in every way. Not only did I see and do everything I wanted but I also saved money by not calling Uber, taxis, or even using public transport.
So make sure to pack walkable shoes, because exploring the city on foot is the best way to see and do everything! Save the environment and get your step count up – why not?
Stay hydrated and use sunscreen, as Madrid can get hot
The summer months of Madrid can see temperatures nearing the 40-degree mark. If you are like me and not used to these temperatures, then it can be a real shock to the system!
To avoid heat stroke or severe sunburn, remember to stay hydrated and keep the sunscreen application up – especially if you are planning on drinking and going out at night. You don't want to be a victim of sunstroke!
Learn a few basic Spanish phrases for smoother interactions
It's always awkward not being able to communicate with the locals. So, do yourself a favor and learn some of the local phrases to make communicating easier.
Google Translate is your best friend while traveling, so take advantage of it!
Below are a few phrases and words that I recommend for you to have under your belt. Check out this link to learn more:
Hola! – Hello!
Buenos días – good morning
Buenas tardes – good afternoon
Adiós – goodbye
No entiendo – I don't understand
No hablo español – I don't speak Spanish
¿Habla inglés? – Do you speak English?
Dónde está el baño? – Where is the bathroom?
¿Dónde está el restaurante? – Where is the restaurant?
¿Dónde está la calle…? – Where is … street?
Dónde hay una estación de metro? – Where can I find a metro station?
Be cautious of pickpockets in crowded areas
Like all busy areas in Europe, there is always potential for pickpockets. So, be aware and take caution to prevent yourself from becoming a victim!
Always make sure your bag is fully zipped up, don't keep valuables in back or side pockets, and take note of the spaces you are in.
I had no problems with pickpockets, but I did take plenty of precautions. This included wearing a smaller crossbody bag that was secure. I also made sure I didn't bring out my valuables in a big crowd, and if I used my phone I kept a tight grip on it!
Try the local cuisine and venture beyond touristy restaurants
Some of the best food places are those outside of the main touristy areas.
Not only are they way cheaper, but you also get a more authentic experience and are supporting smaller local businesses at the same time. So, don't be afraid to venture out and explore the back streets instead of where the crowds are!
Research and plan your museum visits to make the most of your time
There is nothing worse than turning up to a place you wanted to visit and having no idea how to start.
So to avoid the overwhelming feeling of having no idea where to go or what to do, plan your visit! Make the most of your time in the museum and don't let the crowds get to you.
When visiting Madrid, I had a day where I turned up at a museum and then felt overwhelmed because I hadn't planned what to do once I had arrived. So, fight that feeling and plan ahead. Trust me – you will feel way more satisfied when leaving!
Take advantage of free walking tours to learn about the city's history
As a young adult wanting to explore a new city, you might look at a walking tour as a lame activity to participate in.
But if you are new to the city these are the best way to find your bearings and pinpoint the places you might want to visit in more detail.
You don't need to stay for the whole tour, but by having a guide you can figure out the places and sights you want to see. It is also really interesting to learn about the history of the city from an expert!
Check out local event listings for concerts, festivals, and special events
In a place like Madrid, there is always something happening. So, do your research and get amongst what the city has to offer! Festivals and concerts are always so much fun.
To Conclude
Madrid is truly a one-of-a-kind city. The vibrant city offers a unique, exciting blend of experiences for young adults (and the young at heart!). The energy and charm of the city will captivate you; I left Madrid thriving, and so will you.
Exploring this city as a young adult will help you grow and become a better version of yourself. This is all thanks to the variety that Madrid has to offer, from the people and the culture to the history and architecture.
There is not one part of Madrid that isn't full of beauty and love!
I hope this guide has educated you on the top activities to do, sights to see, nightlife to enjoy, and neighborhoods to stay in while in Madrid. With any luck, I've answered all those small but important questions that every young traveler has.
Jump headfirst into the beautiful city of Madrid and explore everything it has to offer!
FAQs
Is Madrid fun for young adults?
Madrid is the ideal place to explore, party, relax, and vibe in for a young adult. The city is fast-paced and full of culture — not to mention home to some of the best nightlife in Spain!
Where is the best place for young adults in Madrid?
The best place in Madrid for young adults has to be the neighborhoods of Malasaña and Chueca. Both are vibrant, full of energy, and are known for their awesome nightlife. A bonus is both of these neighborhoods are relatively cheap to stay in.
What is the most hipster area in Madrid?
For me, Malasaña won the award for being the most hipster area of Madrid. This is because of the vibrant street art, the thrift shopping, and of course the trendy bars and restaurants in the area. 
Malasaña attracts mainly young adults, students, and hipsters which only adds to the vibe.
Where is the best nightlife in Madrid?
There are many places in Madrid with great nightlife. My favorites are Malasaña, Chueca and Huertas. 
All these places have a great vibe and tend to attract both locals and tourists. If you are into the party scene, then make sure you check these three neighborhoods out!
Can I visit Madrid on a budget?
Yes, you can. The most important thing is to do your research before arriving. Find the safest and cheapest place to stay that has accessibility to kitchens so that you can cook meals (to save more money. Re-read the section on "Traveling Madrid on a budget" to learn more!
Is Madrid safe for female travelers?
Yes, Madrid is considered safe for female travelers. Like all places, you need to be aware of your surroundings and take precautions so that you continue to be safe. After spending a week in the capital, I had no moments of feeling unsafe or wary of my surroundings.
Is Madrid LGBT-friendly?
Madrid is an open and accepting city with a diverse culture. But like all places, there is the odd group or person who unfortunately might not make you feel as welcome and accepted as they should. 
Despite this, the capital has some amazing neighborhoods that are known for being LGBT-friendly. My favorite is Chueca, as it has the highest concentration of gay bars and has the best atmosphere.