Exploring Madrid's Retiro Park: A Complete Guide
Retiro Park, or Parque del Buen Retiro, located in the bustling heart of Madrid, is a green oasis that offers visitors a peaceful retreat from the city's busy streets. It is one of the largest parks in the Spanish capital and holds an important place in its culture and history.
Originally created as a royal park in the 17th century, Retiro Park was later opened to the public and has since become a favorite destination for tourists and locals alike. Its vast expanses of manicured lawns, picturesque fountains, and pristine gardens make it an ideal space for relaxation, socializing, or outdoor activities like jogging or cycling.
But there's more to Retiro Park than just natural beauty: within its borders lie numerous attractions such as galleries, sculptures, monuments, cafés, and even a serene artificial lake where visitors can rent rowboats. All these elements make Retiro Park an essential part of Madrid's tourism industry.
In this article, we'll explore all aspects of Retiro Park- its history, architecture, and what it offers for entertainment- so that you can start planning your perfect day out in one of Madrid's most cherished landmarks.
The History of Retiro Park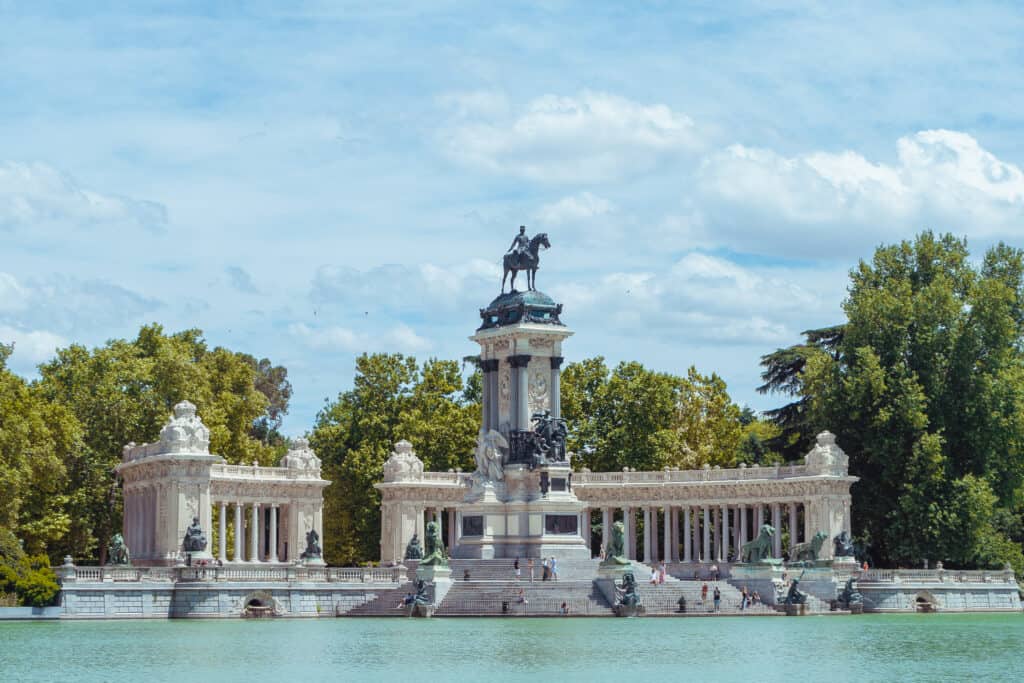 Retiro Park, located in the heart of Madrid, Spain, holds a rich and storied history dating back to the 16th century. The Spanish Monarchy initially owned the park and served as a private retreat for King Philip II before opening to the public in 1767.
In the late 19th century, under the rule of Queen Isabella II, Parque del Retiro underwent significant renovations, transforming it into one of Madrid's most beautiful and beloved green spaces. Many of its famous landmarks were constructed during this time, including the Crystal Palace and the Rosaleda rose garden.
During the Spanish Civil War in 1936, Retiro Park became an important site for resistance against Franco's regime. The park served as a refuge for those fleeing persecution and a meeting place for anti-Franco groups to plan their strategies.
Following Franco's death in 1975 and the restoration of democratic government in Spain, Retiro Park underwent further renovations to restore its former glory. Today it is one of Madrid's top tourist destinations, attracting visitors from all over the world who enjoy its beautiful gardens, stunning lake views, and famous statues like El Angel Caido (The Fallen Angel) and La Estatua del Mariblanca.
On 25 July 2021, the Parque del Retiro and the Paseo del Prado were named by UNESCO as World Heritage Site. These sites together comprise the Landscape of Light and are considered to have "outstanding universal value." The Landscape of Light combines cultural, scientific, and natural elements that have developed since the mid-16th century.
In addition to its historical significance and natural beauty, Retiro Park also serves as a cultural hub for residents and visitors alike. It hosts frequent art exhibitions, musical performances, outdoor markets, and public events throughout the year. With such a rich past and vibrant present-day community, it's no wonder that Retiro Park remains one of Madrid's crown jewels.
The Natural Beauty of Retiro Park
Retiro Park is a lush green oasis in the heart of Madrid that boasts an assortment of breathtaking natural features. Originally designed as a royal garden, the park is now open to the public and provides a tranquil escape from the bustling city.
One of the defining characteristics of Retiro Park is its diverse collection of greenery. From shady evergreens to blooming flowers, the park offers a broad spectrum of foliage that changes with the seasons. The combination of colors and textures makes for an enchanting walking experience in any weather.
The numerous gardens within Retiro Park each have their unique charm. Some gardens are designed for reflection and meditation, while others are filled with vibrant flower beds and bubbling fountains. Every area within the park exudes its personality, making each visit to Retiro Park feel like a new adventure.
A stroll through Retiro Park reveals an array of trees and plants native to Spain that provide shade from the hot summer sun. Cedars, oaks, cypresses, magnolias – countless species within the park's borders add to its serene atmosphere.
The lakes in Retiro Park provide an idyllic setting for relaxation or recreation. Boats can be rented at several locations throughout the park, allowing visitors to cruise along placid waters enveloped by verdant greenery. Fountains also make up part of what makes this garden so attractive. Ornate statues shooting water into the sky rhythmically blend with natural surroundings providing aesthetic photogenic beauty.
Retiro Park embodies all aspects of natural serenity– from strolling gardens filled with blooms to meandering walkways shaded by towering trees; it offers something special for everyone who visits this beautiful landscape nestled in Spain's capital city. Whether spending hours exploring every nook and corner or simply sitting by one of its many picturesque lakes appreciating nature at its finest – Retiro Park never ceases to amaze visitors, both foreign and local alike, due to it being an iconic landmark amongst locals as well tourists visiting Madrid over time.
FAQs
What is the size of Retiro Park?
The exact size of the park varies depending on different sources, but it is generally agreed that the park is around 125 hectares or 1.25 million square meters in size. The park includes several attractions, such as boating lakes, rose gardens, statues, and monuments, making it a popular destination for tourists and locals. In addition to its ample green space and diverse flora, Retiro Park also has historical significance as the Spanish Monarchy once owned it before being opened for public use in the late 19th century.
What kind of flora can be seen in Retiro Park?
Retiro Park offers a variety of flora for visitors to enjoy. The park boasts an impressive collection of plant life from towering trees such as elms, oaks, and maples to blooming shrubs like roses and hydrangeas. Visitors will also spot seasonal flowers like daffodils, tulips, and quiet ponds home to lily pads and other aquatic plants. With over 19,000 trees alone within the park, plenty of greenery is available during a visit to Retiro Park.
Are there any walking trails in Retiro Park?
Retiro Park offers several walking trails for visitors to enjoy. The most popular trail is the Paseo de las Estatuas, which translates to "Walk of the Statues". This route takes visitors past various sculptures and monuments throughout the park. In addition, several other paths and trails wind through the gardens and green spaces of Retiro Park. Visitors can also rent bicycles or take a guided tour to explore the park further. With its many walking trails and stunning scenery, Retiro Park is a beloved destination for locals and tourists alike.
The Historical Landmarks of Retiro Park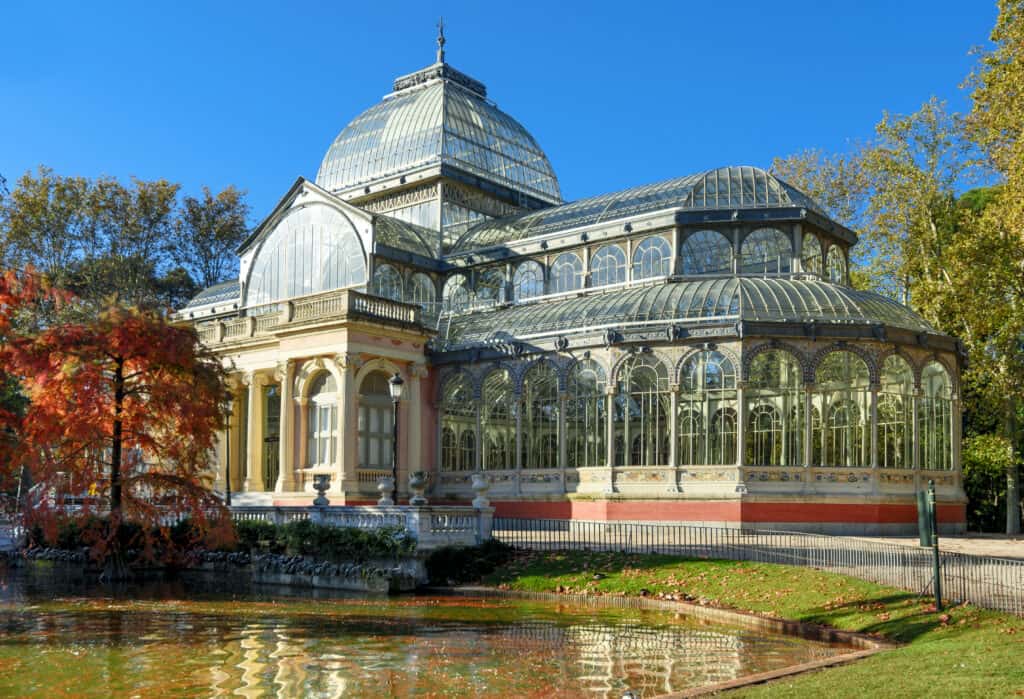 Throughout the park, visitors can also find a wealth of historical landmarks that tell fascinating stories about the city's past.
Perhaps the most iconic attraction in Retiro Park is The Crystal Palace, an exquisite glass and metal structure designed by Ricardo Velázquez Bosco. Built in the late 19th century as a greenhouse for exotic plants, it is an exhibition hall for contemporary art shows today.
Another highlight of this beautiful green area is The Fallen Angel Statue – a bronze sculpture depicting Lucifer falling from Heaven. Created in 1877 by Ricardo Bellver, it was initially constructed for the entrance to a cemetery but was later relocated to Retiro Park. At 666 meters above sea level, it is said to be the only statue of Satan on display anywhere in the world.
The Monument to Alfonso XII stands on a majestic boulevard in front of Retiro Lake. This towering white marble monument honors King Alfonso XII, who played an important role in Spain's history. With imposing equestrian figures and intricate carvings, it epitomizes grandeur at its finest.
For astronomy buffs, the Royal Observatory of Madrid, located within Retiro Park, is worth a visit. Founded by King Carlos III as part of his ambitious project to improve education throughout Spain, this observatory has been used for many scientific studies and observations over its long history.
Finally, other historical landmarks throughout the park include ancient fountains such as Carmen Pond Fountain and Galápagos Fountain, which date back to 1780! Visitors may also come across smaller sculptures such as "La Doncella" (The Maiden) or take in the beautiful views from Mirador del Ejército (Army Lookout).
In conclusion, Retiro Park offers natural beauty and historical relevance with its collection of great sites that remind Madrid's rich history; adding depth and meaning to any stroll through its paths.
FAQs
Who built the Crystal Palace in Retiro Park?
The Crystal Palace in Retiro Park was built by Ricardo Velázquez Bosco, a Spanish architect and engineer. It was designed as a greenhouse for an international exhibition in Madrid in 1887. The construction is made entirely of glass and metal and takes the shape of a Greek cross dome, surrounded by gardens on its exterior. At present, it serves as a cultural center showcasing various art exhibitions throughout the year and stands as one of the most significant landmarks in Madrid's Retiro Park.
What is the story behind the Fallen Angel statue in Retiro Park?
Legend has it that the Fallen Angel statue in Retiro Park was created by Ricardo Bellver in 1877 as a warning to mankind about the dangers of sin and temptation. The statue represents Lucifer; an angel cast out of heaven by God for his rebellion against Him. Standing over 30 feet tall, it is the only public monument dedicated to the devil in the world. However, many locals believe there is more to the story behind the statue's creation, including rumors of secret societies and hidden meanings within the artwork. Despite its controversial subject matter, the Fallen Angel remains a popular attraction for visitors to Retiro Park today.
Can visitors enter the Royal Observatory of Madrid in Retiro Park?
Unfortunately, visitors cannot enter the Royal Observatory of Madrid in Retiro Park. This historic observatory was founded in the late 18th century and was used for astronomical research for many years. However, it is no longer open to the public regularly. While it may be possible to arrange private tours or visits through special arrangements, these are not commonly available. Nonetheless, Retiro Park is a beautiful public space with many other attractions to offer visitors, including fountains, sculptures, gardens, and museums.
Activities in Retiro Park
Retiro Park is a hub of activities that can be enjoyed by people of all ages. The park is extensive, and you can easily spend an entire day exploring all its activities.
One popular activity is rowing on the Estanque Lake. You can rent a boat and enjoy a peaceful ride on the lake's calm waters. It's perfect for couples or families seeking relaxation and quality time together.
The trails in Retiro Park are perfect for cycling or running. The paths wind through beautiful gardens, with plenty of shade provided by towering trees. It's an excellent way to stay active while enjoying the natural beauty of Madrid.
Throughout the year, outdoor concerts and events are held in Retiro Park. From music festivals to market fairs, something exciting always happens here. Watch for upcoming events, so you don't miss out on the fun!
Watching street performers in Retiro Park is another favorite activity among visitors. You'll find all kinds of talented artists showcasing their skills here, from musicians and dancers to magicians and acrobats! Bring some coins to tip them if you enjoy their performances.
Picnicking in Retiro Park is also popular among locals and tourists alike. You can grab local food from vendors or bring snacks, blankets, and baskets to set up a lovely picnic under a tree or near the lake.
Overall, Retiro Park has something for everyone who loves nature, sports, entertainment, or just relaxing outdoors surrounded by greenery – it's worth visiting during your stay in Madrid!
FAQs
How much does renting a rowing boat on the Estanque Lake in Retiro Park cost?
Renting a rowboat on the Estanque Lake in Retiro Park is an affordable and fun activity. It costs 6 euros for the first hour and 5 euros for every additional hour per boat, with a maximum of four people allowed per boat. You can enjoy a leisurely ride while admiring stunning views of the park and its surroundings. So, if you're looking for a budget-friendly way to spend quality time with friends or family, renting a rowboat at Retiro Park is worth considering!
Are there any restrictions on cycling or running in Retiro Park?
Retiro Park is a popular spot for cycling and running enthusiasts. However, there are some restrictions to be aware of. During peak hours on weekends and holidays, cycling is not allowed in certain areas of the park. Additionally, runners are required to use dedicated paths and avoid walking areas. It's essential to watch for signage and follow the rules to ensure everyone can enjoy the park safely.
Are there any annual events held in Retiro Park?
Retiro Park hosts many events yearly. One example is the Book Fair, which takes place each May and sees dozens of booksellers setting up shop in the park's beautiful surroundings. Another annual event in Retiro Park is the Palacio de Cristal Art Exhibition, where visitors can view some of the best contemporary art pieces from around Spain and beyond. In addition to these events, there are often concerts, dance performances, and other cultural activities happening in Retiro Park all year round, making it a vibrant cultural hub for visitors and locals alike.
Practical Information
Located at the heart of Madrid, Retiro Park is a popular haven for city dwellers looking to escape the hustle and bustle of urban life. This vast park offers many activities, including walking paths, boating on its lake, and picnics on its lush grass.
Public transport options such as metro line 2 (Retiro station) and several bus lines make getting to the park accessible. Additionally, visitors may opt for a rented bicycle or take a stroll to get there.
Entrance to Retiro Park is free of charge, and it is open every day from sunrise until sunset. It's important to note that biking and skating are not allowed in designated pedestrian areas. Visitors should also know that smoking and feeding animals are prohibited inside the park.
To ensure everyone's safety, visitors must remain in marked areas and adhere to park rules, including no littering, vandalism, or accessing restricted sites. As with any crowded place, keeping valuables attended at all times and traveling with companions when possible is recommended.
When visiting Retiro Park, it's best to pack light but bring essential items such as sunblock lotion, comfortable footwear, snacks, and reusable bottled water since water sources are limited. Benches throughout the park provide adequate resting stations while taking in picturesque views.
---
FAQs
What is the best way to get to Retiro Park?
To get to Retiro Park, there are several modes of transportation available. One option is to take a taxi or ride-sharing service directly to the park's entrance. Another option is public transportation, such as the metro or bus system. The closest metro station is Retiro, which is located on Line 2 and Line 9. From there, it's about a 10-minute walk to the park. If taking the bus, several lines have stops near Retiro Park, including lines 1, 2, 9, 15, and 20. Walking or biking to the park may also be feasible, depending on the starting location and personal preference.
Is there an entrance fee for Retiro Park?
No. Retiro Park has no entrance fee as it is a public park.
Are pets allowed in Retiro Park?
Yes, pets are allowed in Retiro Park. However, there are specific rules and regulations that pet owners must abide by to ensure the safety of both their pets and other visitors to the park. Dogs must be kept on a leash at all times, and there are specified areas within the park where they can play without a leash. Pet owners are responsible for cleaning up after their pets and must dispose of waste properly in the provided bins. Pet owners need to be respectful of other visitors to the park and keep their pets well-behaved while enjoying this beautiful public space.
Are There Any Public Restrooms In Retiro Park?
Several public restroom facilities are available throughout Retiro Park, making it easy for visitors to enjoy their time without any discomfort. These facilities are usually located near the main entrances and key points of interest within the park, making them easily accessible from various areas. 
Are there any cafes or restaurants at Retiro Park?
Yes, Retiro Park in Madrid offers a variety of cafes and restaurants where visitors can enjoy delicious meals and beverages. From small kiosks selling snacks and drinks to larger establishments with outdoor seating areas, numerous options are available for all tastes and preferences. Some popular options include the Cafe del Palacio de Cristal, which offers outdoor seating with stunning views of the park's lake, and La Cabaña del Retiro, known for its traditional Spanish cuisine. Whether you're looking for a quick snack or a full meal, you'll find plenty of options to satisfy your cravings while exploring this beautiful park in the heart of Madrid.
Can I spend a whole day at Retiro Park?
Absolutely. Retiro Park, located in the heart of Madrid, is a vast oasis boasting over 350 acres of gardens, sculptures and monuments, ponds and lakes, cafes, and restaurants. It is a place where one can spend an entire day exploring its manicured gardens, rose bushes, and stone fountains. The park offers numerous activities, such as paddle boating on the lake, renting bicycles and Segways, or just strolling around enjoying the greenery. Retiro Park is worth spending a whole day at, whether you are looking to relax with a book under the shade of a tree, have a picnic with friends, or watch street performers doing their thing.
Are there any nearby hotels to Retiro Park?
Certainly! Retiro Park is located in the heart of Madrid, so many hotels are nearby. Some popular options include Hotel Ritz Madrid, NH Collection Madrid Palacio de Tepa, and AC Hotel by Marriott Recoletos. However, the area also has smaller boutique hotels and budget-friendly options. 
What other activities can I do near Retiro Park?
One popular option is visiting nearby museums, such as the Prado Museum, where you can enjoy stunning art collections from different periods. Another great activity is walking along Calle de Alcalá, one of Madrid's most iconic streets, leading to Gran Vía, famous for shopping and entertainment. You can also visit the Botanical Garden or relax at one of the many outdoor cafes and bars around Plaza Mayor or Puerta del Sol, which offers delicious Spanish cuisine and nightlife options. Finally, you can take a short metro ride to Sol, where you will find plenty of shopping options and entertainment venues all within walking distance from each other. Whatever your interests may be – culture, nature, or shopping – Retiro Park has something for everyone beyond its borders.
---
Conclusion
In conclusion, Retiro Park is a must-see location for any visitor to Madrid. Whether you're looking for a peaceful escape from the city or an exciting afternoon of outdoor activities, Retiro Park has something for everyone. From its beautiful gardens and sculptures to its boating lake and street performers or fortune tellers, you'll never run out of things to see and do. It is an amazing park. So pack a picnic, grab your blanket, and spend an unforgettable day in one of Madrid's most beloved parks!