From Landmarks to Boutiques: A Guide to Experiencing Gran Via Madrid
Madrid is a city that has something for everyone. From world-class art galleries and some of Europe's most impressive architecture to lively parks and gastronomical delights, Madrid is a city where you can always find something interesting to do.
One of the best places to explore in this cultural powerhouse of Spain is Gran Vía: a beautiful boulevard running from Alcalá Street to Plaza de España. Voted as one of the great avenues in Europe, Gran Vía will take you through Madrid's glorious past into its contemporary character.
In this article, we'll explore the wonderful Gran Vía: discovering hidden gems, notable landmarks, fascinating monuments, and more. So please put on your walking shoes, and let's explore this Spanish capital!
What is Gran Via?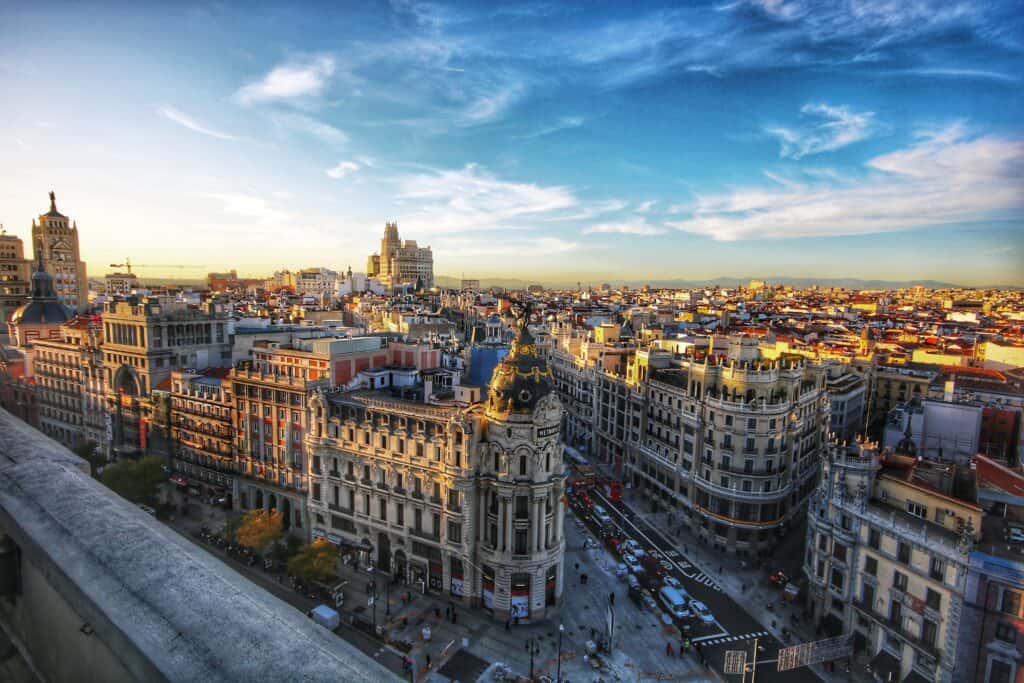 Gran Via is one of the main thoroughfares in the Spanish capital. Located in the heart of the historic center, it stretches over 1700 meters and connects Calle Alcalá to Plaza de España. It has become a symbol for 20th Century Madrid. It is one of its most iconic locations, with many beautiful religious sites, grandiose theater buildings, monuments from various eras, and contemporary architectural structures.
The Gran Via was initially designed with several goals: to relieve traffic (by providing alternative routes out of Madrid), to provide an elegant shopping street with modern amenities, and to offer leisure activities by adding a range of restaurants and nightlife spots. After more than 100 years following its first designs, these objectives have mainly been achieved today. Visitors can enjoy many attractions along the boulevard, such as Puerta del Sol's clocktower (El Reloj) or the renovated Metropolis building, now home to some of Spain´s best cultural exhibitions.
On sunny days, tourists can be seen strolling down "La Gran Vía", admiring centuries-old churches like La Iglesia de San José Descalzo or marveling at beautiful theaters like Teatro Caser Calderón just a few yards away from each other. Several options are available for visitors seeking shopping therapy or gastronomic discoveries. Those interested in television history can even visit what used to be the legendary venue of the alternative scene "Velvet Club".
Regardless of one's interests when visiting this unique avenue, it will surely not disappoint visitors. No matter where you look, there will always be something new and exciting waiting around every corner!
History of Gran Vía
Gran Vía is steeped in history and modern culture. Dating back to 1910, it has become one of the most recognizable streets in Europe and marks the start of Madrid's main commercial and entertainment district.
Where does Gran Vía come from?
The origins of Gran Vía go back to the late 19th century. With Madrid's population continuing to increase (from 494,241 inhabitants in 1885), it was necessary to build a new boulevard with wide sidewalks and grand apartment buildings to accommodate this increased number of people. Plans emerged in 1900 as part of an urbanization proposal by Juan de Herrera y Aguilera and were approved by Royal Decree five years later. Construction began shortly after in 1910 to connect what used to be two separate districts: Alcalá Street (which joined Plaza Mayor) and Alfonso XII Street (which connected Recoletos).
How has Gran Vía changed over time?
Since its construction at the turn of the 20th century, Gran Vía has continually evolved into one of Spain's most iconic avenues. After a few decades following its opening – during which several renowned theatres opened here – it has gone through a direct impact from World War I aftermath, such as blockades or rationing, followed by a golden period during post-War Years from which most pictures taken could be found today. Post-Franco's Dictatorship terms have been notable for restoring stability economically, giving away for constantly enhancing constructions both topographically but also ornamentally speaking, where concepts such as industrialism merged with new Corbusian vertical areas' implementation plans have lifted Madrileño standards on architecture arts even more while providing newly found social housing opportunities too around this emblematic avenue alley.
Last but not least key role must be underscored played right now by current city tax boost measures aiming at supporting active cultural dynamism due to globalised millions visitations being driven into its epicentre constituted among all those marvels events legendary tales made possible owing precisely by this pioneering street itself commencing early XX century legacy back then eternally thanked since then represented plainly yet strenghtfully indeed per foreign visitors seeking creative spectacle activities assimilated before onto guests seeking infinitely extended night flair enjoyable entertainments ending up having fun hugely worldwide so widely appreciated acclaimed nowadays til beyond anyone's expectations alike reached actual premises considered lately far beyond traditional origins framed once long ago falling in line somewhere out there eventually closing down inexhaustibly insatiable circuit dedicated solely today either customers ought tourists longing for guaranteed energy pureness regarding unique famed episodes fondly remembered eternal spot right next exciting escapade coming real surprise anytime soon too…
What are some significant events that have taken place in Gran Vía Madrid?
Numerous protests and celebrations have taken place throughout its history. One of the most emblematic demonstrations was in 1976 when thousands of people gathered to protest against the dictatorial regime led by Franco. In its almost 100-year-long history, some other remarkable moments include the celebration of San Isidro Day in 1982, when citizens marched down Gran Vía to honor Madrid's patron saint; a gig by popular English band Oasis in 2005; and most recently, hundreds of people gathered at the iconic street to celebrate Spain's victory at the World Cup in 2010.
Gran Vía also hosted important political rallies throughout the years; for instance, various demonstrations supporting LGBT rights took place in 2019 and 2020. Additionally, numerous protests against austerity measures implemented by Spain's government throughout the past decade have been organized along this well-known avenue.
Whether joyful or sorrowful, these remarkable events define Gran Vía's rich cultural heritage and vivid civic life. Its illustrious history ensures that nothing goes unnoticed, no matter what happens on these streets — from local feasts to international megastar concerts.
Architecture and Landmarks
Gran Via is Madrid's historic "Grand Avenue" and one of the most emblematic streets of this city. Its architecture reveals a great variety, ranging from earlier Art Nouveau buildings to later High-Rise structures. The old half includes many 19th-century buildings in modernist styles, such as Art Deco and Eclectic, while the newer part has more contemporary constructions.
This avenue's oldest part helps explain how Madrid slowly developed during the past centuries. Many buildings from different eras are found along its sides, like Neoclassical State Buildings, Modernist palaces with wrought iron balconies and gates, residential homes with a purely urban style, or Reforms with influences from foreign cultures. In addition, it boasts a long list of intricate interiors designed by renowned artists like Débora Errea or Belenon Estudio de Arte y Arquitectura.
Finally, Gran Via offers iconic high-rises at either end of the street, like Telefonica Tower or the Salamanca Building. Other nearby enclaves include Cuartel del Conde Duque or Calle Fuencarral, with trendy shops and vibrant nightlife.
In conclusion, Gran Via is an example of Madrid's rich history told through its architectural style that will impress anyone who visits this charming avenue.
Edificio Telefónica
Edificio Telefónica is a historic landmark located in the Gran Vía of Madrid. Built from 1925 to 1931, it was constructed as the headquarters of the Spanish telecommunications company, Compañía de Teléfonos de España (CTE). The building is renowned for its similarities to Art Deco and early 20th-century European architecture, making it an iconic example of Spain's economic and social progress.
The building stands 124 meters tall over 13 floors with a lift within a central tower. It incorporates two patios in two sets of buildings alongside Calle Alcalá. It features masculine blue facades with pink granites and ornamental medallions above doorways, echoing its heritage as the former residence of CTE's executive board members. Furthermore, several balconies line the façade, which forms an impressive sight when illuminated at night.
Not only does it display a significant quantity of elegance and refinement in its exterior design, but it also projects creative organization on its interior landscape, henceforth impressing visitors from every angle. Inside, one can locate six foyers adorned masterfully by more than 500 accessories, such as vases, lamps, and basins from sources like Duchamp Valleryrand or Maximova, adding further layers of extravagance to this elaborate architectural masterpiece.
Edificio Telefonica served CTE until 1986; however, it immediately underwent partial remodeling afterward, garnering praise for becoming a cultural hub in downtown Madrid hosting various events such as photography exhibitions or lectures while opening up its doors to other corporate titans like Microsoft or Oracle, among others who established their offices here due to its unique charm coupled with desirable modern amenities including air conditioning systems or automatic elevators.
As a source of national pride, Edificio Telefonica reinforces Spain's presence on the international scene, helping promote artwork and communication technology advancements and reshuffling old business tactics through holding numerous training courses regarding digital innovation topics all within proximity to Barrio Salamanca – one of Spain's main residential districts packed with stylish stores and restaurants making for a broad spectrum experience on both ends when visiting this revered pearl in Gran Via street's crowning jewel.
Palacio de la Prensa
The Palacio de la Prensa is an iconic building on Madrid's Gran Via. This historical monument is one of the city's most important examples of modern architecture. Built in 1924 by architect Cristóbal Conde, the Palacio de la Prensa stands out as a landmark and a beloved piece of Madrid's history.
Located near Plaza España, this impressive structure was initially used as a press center. For nearly 100 years, journalists, artists, and filmmakers have been flocking to this charming venue for its fascinating history and cultural significance. Its rich interior, designed by José Carralero, showcases exceptional art deco and neo-classical touches with sculptures from famous Spanish artists such as fellow Madrileño Soler and Toledo alike Miguel Prado.
While no longer functioning as a media hub, the Palacio remains integral to Spain's historical narrative. It now houses several apartments and offices while entertaining visitors who admire its unique works and exquisite layout. The edifice also delights locals who use its outdoor cafés and shops throughout the year – making it a must-see destination during any visit to Madrid!
Aside from its architectural importance, some may recognize Palacio de la Prensa for its film screenings or annual Spanish Film Festival (the oldest of its kind), which has run successfully since 1975 under Agrupación Española de Directores Cinematográficos (AEDC).
In sum, For citizens of Madrid — especially those familiar with print media –Palacio de La Prensa is undoubtedly considered one of the most dashing residential estates along Gran Via, boasting physical grandeur laced with romantic nostalgia. A marvel made manifest to showcase excellence in mid-20th century style that still can be experienced today!
Metropolis Building
The Metropolis Building in Madrid's Gran Via is a landmark that stands out from the surrounding structures with its art nouveau architecture and unique features. The building was built in 1910 by architects José Grases Riera, Francisco Vázquez Subirana, and Antonio Pertegaz for the Spanish bank La Equitativa. Designed in a balanced asymmetrical style with elements of French, English, and Egyptian decoration, the structure stands 61 meters high. It comprises two levels: an upper tower and terraced levels below.
The upper tower is decorated with two figures of muscular Atlas-like caryatids on each side which support the balcony, along with four other sculptural statues symbolizing four great cities of the world: London, New York, Paris, and Rome. Ornamental friezes depicted in Greek mythology can also decorate its lower levels. The eight-story building has an enclosed patio noble and balconies on each floor. It also contains a clock on its back facade with six faces illuminated at night by florescent lamps – giving it its nickname – 'the building of clocks' among locals.
The site was declared Bien de Interés Cultural (BIC) or 'good of cultural interest' marked by the Ministry of Education in June 2002 and since then has been undergoing renovation under its current owners Grupo Villar Mir to restore it to its original grandeur while bringing state-of-the-art technologies to modernize it further making it one of Gran Vía's best-known tourist attractions.
Carrión Building
Built in the 1920s and styled by Emilio Carrión, it is considered one of Madrid's most iconic buildings. It is also known as the Capitol Building. It sports wrought iron façades, with a mixture of neo-gothic and art deco accents reminiscent of the Parisian architecture of that time. The building was recently renovated and returned to its former glory. It is now a commercial center offering luxury stores, restaurants, and cafes.
The main feature that makes the Carrión Building so recognizable is its iconic Schweppes neon sign that sits perched upon it. This giant lemon-shaped sign has illuminated the night sky for Madrid's citizens since 1931. According to local legend, the sign is switched off only one day per year – when Gran Via observes two minutes of silence in memory of those killed during Spain's Civil War. The powerful symbol is an integral part of local folklore and has become both a city landmark and a cultural icon for generations of Madrilenians past and present.
Apart from its importance as part of Madrid's history, aesthetic charm, and symbolism, the Carrión Building also holds a special place in popular culture due to numerous movies featuring this impressive edifice, such as 1917 or Pájaros de Papel (Paper Birds).
The Carrión Building stands today as more than just an architectural marvel; it is a reminder of past grandeur and hope for future prosperity – pointing towards all that can be achieved when unifying different styles into one beautiful creation!
Shopping and Dining
Gran Vía Madrid is one of Europe's most famous and visited streets, boasting endless shopping opportunities. From high-end luxury brands to unique boutiques, it's a shopper's paradise.
At each end of Gran Vía Madrid lies two large shopping malls: Calle de Serrano and Centro Comercial El Pradillo. Filled with designer labels, cookware stores, and cafes, these prestigious centers provide the perfect start to any shopping day. Along Gran Vía lie countless boutiques specializing in everything from casual wear to designer lines. Although some can be pretty expensive, if you look around, you can pick up fashion-forward pieces for a fraction of the price.
What makes Gran Vía particularly appealing is its selection of small independent boutiques. Open seven days a week, these treasures offer hard-to-find items that make great keepsakes or souvenirs for your travels. Popular stores include Reina Baqueano – an ethically conscious shop that offers cutting-edge jewelry and accessories – and Bancha – a store showcasing exclusive homeware made by local artists and antique dealers.
For those more interested in the finer things in life, numerous outlets offer curiosities such as fine art and antiques. If you're looking for something unique, don't miss Casa Pedrote selling traditional Spanish scrolls, rugs, and masks carefully crafted by generations of artists.
In sum, there's something for everyone on Gran Vía – regardless of budget limitations or fashion preferences; it has plenty of shops to fill your suitcase with souvenirs or gifts worthy of anyone's taste!
Dining Options
Gran Via in Madrid is a thrilling and vibrant street that offers a world of culinary delights. Here are some great places to check out:
Mercado de la Reina: Step inside this stylish and modern restaurant on the Gran Via for an extensive menu of Spanish favorites and a fine selection of wines.
Café de la Luz: Whether you're looking for breakfast, brunch, or lunch, Café de La Luz has something for everyone. And after your meal, head upstairs and take in breathtaking views from their rooftop terrace.
El Corte Ingles: This department store houses several restaurants under its roof. For a real feast, visit Gourmet Experience – the vast food hall offering the perfect dish for any palate!
Tourists love El Tigre – the lively bar where tasty tapas are served free with each drink purchased. Rub shoulders with locals here and delve into engaging cultural experiences.
With so many options, you'll find something that tickles your fancy at Madrid's Gran Via!
Entertainment and Nightlife
Gran Via in Madrid is a renowned destination for entertainment and nightlife. Gran Via has something for everyone, from great theaters to intriguing cinemas, delicious restaurants, and cozy bars.
Theaters-lovers will marvel at daily performances at Teatro Coliseum, Teatro Lope de Vega, and Teatro Rialto. Playful musicals and thought-provoking plays regularly grace the stages of these esteemed venues. Furthermore, an excursion to Cine Callao –a legendary cinema that has been operating since 1926—is an ideal respite for movie fanatics. Not only will they view iconic films, but also relish the unique atmosphere of this vintage establishment.
For revelers who enjoy staying out late, there are plentiful bars such as Museo Chicote and Bar Cock, where they can soak in good vibes while sipping drinks in good company. Additionally, with numerous nightclubs like Joy Eslava and Kapital making grounds for some extreme partying –parting till late never seemed easier!
Altogether, it is easy to see why Gran Via is such a beloved locale in Madrid. Its vast array of enticing options makes it a one-of-a-kind place that no tourist or local should miss visiting!
Tours and nearby activities
Visitors can explore the architecture of El Prado museum, take part in themed tours or visit one of the many classic Spanish attractions such as Puerta del Sol or Plaza Mayor. Performances at Royal Palace, Chef special restaurants, and museums with collections from Picasso or Dalí can also be included in this touristic program.
Regarding typical activities that Gran via Madrid offers tourists and citizens alike, walking tours come first on the list. Walking through 'Madrid Histórico' (Historical Madrid), guided by an external source, provides a richer insight into the city's core than any guidebook could ever offer. Then there are live music venues with their typical shows which always fascinate locals and international visitors when they hear traditional local music such as flamenco.
To complete your experience while in Gran Via, we recommend also checking out some nearby markets like San Miguel Market or San Antón Market, located just around the La Latina neighborhood. Other options include going north to the Argüelles area, where plenty of bars and clubs come alive late at night, creating a unique atmosphere for local youngsters willing to meet people from everywhere worldwide! Also, don't miss Caixa Forum cultural center for modern art exhibitions – something special throughout the year!
Finally, adventurers should check out green spaces like "Parque de El Retiro" – a large park previously made for the Royal family with its picturesque boating lake "Estanque" surrounded by tall trees, making it ideal for romantic walks too. Moreover, its location near Paseo de Esperanza connecting Bullring North makes even more attractive routes with many alternatives offered on each street corner!
---
FAQs
What are the main attractions in Gran Vía?
Visitors will find historical monuments such as The Metropolis Building, Plaza de Callao and a variety of stunning architecture from Art Deco to modern skyscrapers. There are also several stores for luxury shopping, bustling bars and nightclubs, cinemas and live theatres, traditional taverns with delicious Spanish cuisine, and even more cultural activities in Gran Vía.
How long is Gran Vía?
Gran Vía is Madrid's leading and most prominent thoroughfare, stretching for 1.3 km (0.8 mi) long, and is one of the city's most iconic streets. The average width of Gran Vía is 35 meters (115 ft), making it one of Europe's widest avenues. 
Where is Gran Vía located in Madrid?
Gran Vía is a major avenue located in the center of Madrid, Spain. It runs from Calle de Alcalá in the west to Plaza de España near the Royal Palace of Madrid in the east. The street passes through some of Madrid's most famous landmarks, such as Puerta del Sol, the Metropolis building, and Gran Vía street itself.
Is Gran Vía pedestrian-friendly?
Yes, Gran Vía is pedestrian-friendly. The central boulevard was designed with pedestrians in mind and has a wide sidewalk area along its length. To ensure maximum safety for walkers, Gran Vía also offers various street crossings with signals and large pedestrian islands with benches. Furthermore, it has public transport stops at regular intervals, providing easy access for everyone.
What are the best times to visit Gran Vía?
Visiting Gran Vía is best done during the early mornings and late afternoons. This is because the weather tends to be mild and sunny at these times, perfect for shopping or sightseeing. Additionally, the streets are far less crowded than later in the day, making it much easier to explore leisurely and find an excellent spot to grab something to eat and relax. Another plus is that most restaurants tend to have specials before 1 p.m., making this a budget-friendly option while still having access to all of Gran Vía's attractions.
Are there any hotels in Gran Vía?
This busy thoroughfare boasts luxurious lodging options, from chic boutique hotels to high-end international brand accommodations. Many hotels feature stylish modern rooms, convenient amenities such as heated pools, hot tubs and spas, health clubs, and dining options. Some also offer stunning views of Madrid's iconic skyline and unbeatable city center location. Whether your stay is for business or pleasure, there are countless reasons why booking a room at one of the many Gran Vía hotels is sure to be an unforgettable experience.
How do I get to Gran Vía?
It is easily accessible by public transportation (Metro, bus, and commuter train). The nearest Metro station to Gran Vía is Sevilla on Line 2, while the closest bus stops are Plaza de España or Alonso Martínez on Lines 1, 14, and 67. Additionally, there are several nearby commuter train stations such as RENFE Cercanías' stations Chueca and Tribunal. Alternatively, you can also take a taxi from any part of the city for convenience.
Why is Gran Vía famous?
It is known for its vibrant atmosphere and beautiful architecture, with an array of historic buildings alongside modern shops and restaurants. The stretch from Callao to Plaza de España is especially renowned for its many iconic landmarks, such as Metropolis Building, La Gran Vía Monument, and Biblioteca Nacional Museo. Visitors can enjoy watching performances in the nearby theatres, strolling along its stunning palm-lined avenues, or simply stopping to admire the impressive façades that adorn many buildings along this traditional Spanish street.
What shops are in Gran Vía Madrid?
Gran Vía is home to various stores, ranging from clothing outlets and electronics shops to food stores and restaurants. Popular retail chains can be found in the area, such as Zara, H&M, Pull&Bear, and El Corte Inglés. The iconic department store, FNAC, specializes in media products and books and is located on Gran Vía 52. Other shopping options include mobile phone stores like Phone House and Orange, jewelry stores like Tous or Rolex, shoe shops like Mustang or Nike Town Madrid, pharmacies like Muñoz y Marín or Creapharm, and supermarkets such as El Corte Inglés Supermercado. Gran Vía is lined with souvenir shops such as Olé España and tourist-focused businesses, including tour agencies like Alsa Turismos and tattoo parlors for those looking for something more permanent!
---
Conclusion
In conclusion, Gran Vía is one of Madrid's most iconic spots and unquestionably its beating cultural heart. Whether you want to shop, explore, or take in the beauty of this grand avenue, it definitely won't disappoint. Its central location is the perfect place to start your journey through this fantastic city – the only limits are your imagination! So come and walk down Gran Vía and let yourself get lost in all Madrid offers.