Is Madrid Walkable? A Guide to Exploring Madrid on Foot
Yes, Madrid is a highly walkable city with a Walk Score of 100, so you can go about your daily business on foot! Madrid is highly walkable because of its compact city center, putting many major attractions within walking distance of one another, as well as its extensive public transportation system.
Whether you're planning a well-deserved trip or just daydreaming about future travel plans, you can be sure you won't need a car when visiting this beautiful city!
Read on to find out all you need to know for planning your self-guided walking tour of Madrid! We cover:
Madrid's most walkable neighborhoods
Attractions and things to do in Madrid
Helpful tips for your visit to Madrid
Choosing a city to visit that suits your nightlife preferences
Frequently asked questions.
Let's get right into it!
Best Neighborhoods To Walk Around In Madrid
One of the best things about Madrid is there's just so much to see and do!
Walking around the city is the perfect way to take in the sights; you can explore at your leisure and stop wherever you want!
Malasaña
Malasaña is a must-see for visitors to Madrid and is definitely one of the most walkable neighborhoods. You'll be charmed by its narrow, cobblestone streets and its fascinating history.
This neighborhood was the heart of the countercultural movement La Movida that arose during Spain's transition to democracy in the 1970s, and echoes of this can still be seen today.
With a huge array of art spaces, eateries, and vintage shops, there's something for everyone in this vibrant neighborhood!
La Latina
If you're looking for an authentic taste of Madrid, La Latina is the perfect neighborhood to explore on foot. One of the oldest areas in Madrid, it features ancient streets and historic buildings – perfect for history buffs!
If you're feeling hungry, Cava Baja Street is famous for its tapas bars and eclectic range of restaurants – all within easy walking distance.
Most of the narrow streets in this area are fully pedestrianized, letting you stroll and take in the sights without having to worry about traffic.
If you're in the area on a Sunday, don't miss out on the El Rastro Flea Market – full of antiques, handmade treasures, and vintage finds.
Chueca
Chueca is famous in Madrid as the city's epicenter of LGBTQ culture, and combined with its pedestrian-friendly vibe, it's a must-visit.
The mostly car-free streets are packed with boutiques, art galleries, and restaurants, creating the perfect strolling experience.
This neighborhood is known for its nightlife, with a range of small bars and big clubs offering inclusive fun for those hoping to party the night away!
Try visiting the famous Museo Chicote, which includes Frank Sinatra and Ernest Hemingway among its former patrons!
Lavapiés
Lavapiés features an incredibly pedestrian-friendly layout. The streets are narrow alleys, packed with vibrant street art that tells a story of the neighborhood's multicultural history.
You'll love visiting Tabaclera – a cultural center housed in a former tobacco factory, which features art exhibitions and community events.
After taking in some culture, you'll be just a short stroll away from delicious eateries showcasing an eclectic range of global cuisines.
Sol
Sol is sometimes known as the heart of Madrid – and for good reason! This neighborhood is packed with history and culture, perfect for exploring slowly on foot.
In the middle of Sol is the famous Puerta del Sol. This busy square is surrounded by restaurants, shops, and historic buildings, all easily accessible on foot.
The whole area is buzzing with tourists, locals, and street performers, with modern boutiques and ancient buildings placed side by side on the narrow streets.
Huertas (Barrio de las Letras)
For book lovers, Huertas is a must-visit!
Also known as Barrio de las Letras (the literary quarter), it's a testament to Madrid's rich literary history.
You can walk past the buildings where famous writers such as Cervantes once lived, breathing in the history. The streets are inscribed with famous literary quotes, so taking it slow and exploring on foot is a must!
The narrow streets packed with 17th-century architecture are super pedestrian friendly, and with antique bookshops, art galleries, and cafes abounding, you'll find everything you need with easy access.
Retiro
The star feature of the Retiro neighborhood is the beautiful Parque del Buen Retiro – a lush, leafy paradise in the middle of the city. It's the perfect place to escape the heat and rest among the trees or stroll through the well-maintained rose gardens.
Beyond the park itself, you'll find pedestrian-friendly boulevards lined with trees, as well as high-end boutiques and eateries – perfect for window shopping if your budget doesn't stretch quite that far.
The Prado museum is also easily accessible on foot if you're looking to take in some culture.
Gran Vía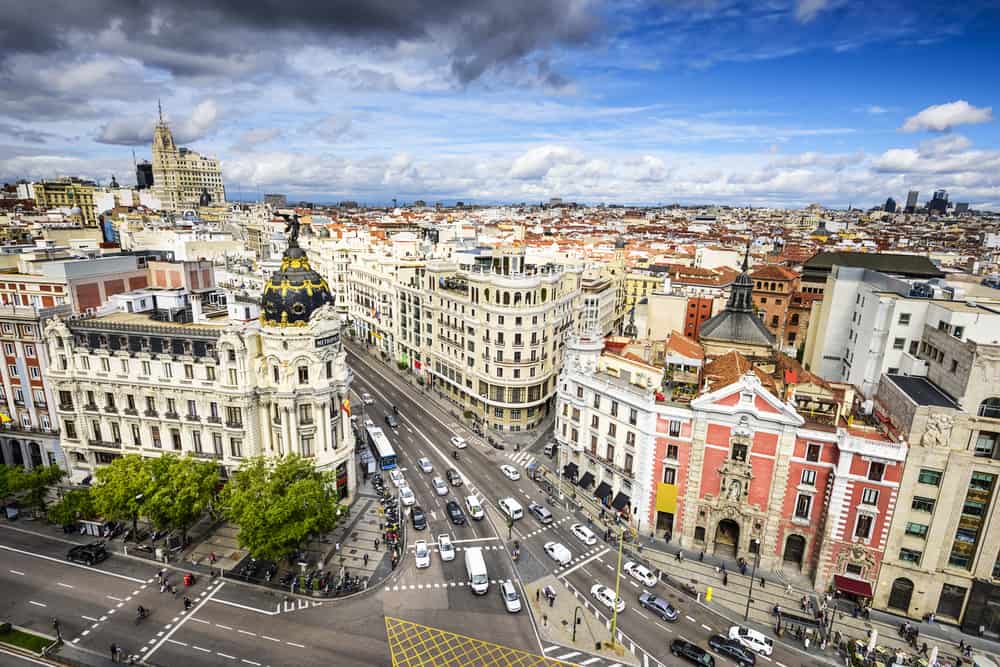 Gran Vía is sometimes known as the 'Broadway of Madrid', thanks to its wide array of theaters and cinemas.
By day, the neighborhood is a paradise for shoppers – you'll walk past huge stores and high-end boutiques. The buildings along the street are something special, ranging from Art Deco to Baroque. It's an architecture lover's dream!
By night, Gran Vía is lit up with neon lights, as tourists and locals alike head out on the town to take in the culture. With broad sidewalks and plenty of pedestrian-only zones, it's easy to explore on foot and take in the sights.
Salamanca
Salamanca is known for its luxury shopping, but there's something for everyone in this elegant neighborhood – even those on a budget!
The streets are super pedestrian-friendly, with wide boulevards showcasing beautiful neoclassical architecture.
If you're tired from walking the streets, you can visit the tranquil Parque Eva Duarte – it's only a short walk from the main shopping area.
Things To Do In Madrid On Foot
There's so much to do in Madrid on foot – in fact, having a car would in most cases be more of a hindrance than a help! Let's take a look at some of the most pedestrian-friendly activities.
Explore The Historic Streets And Architecture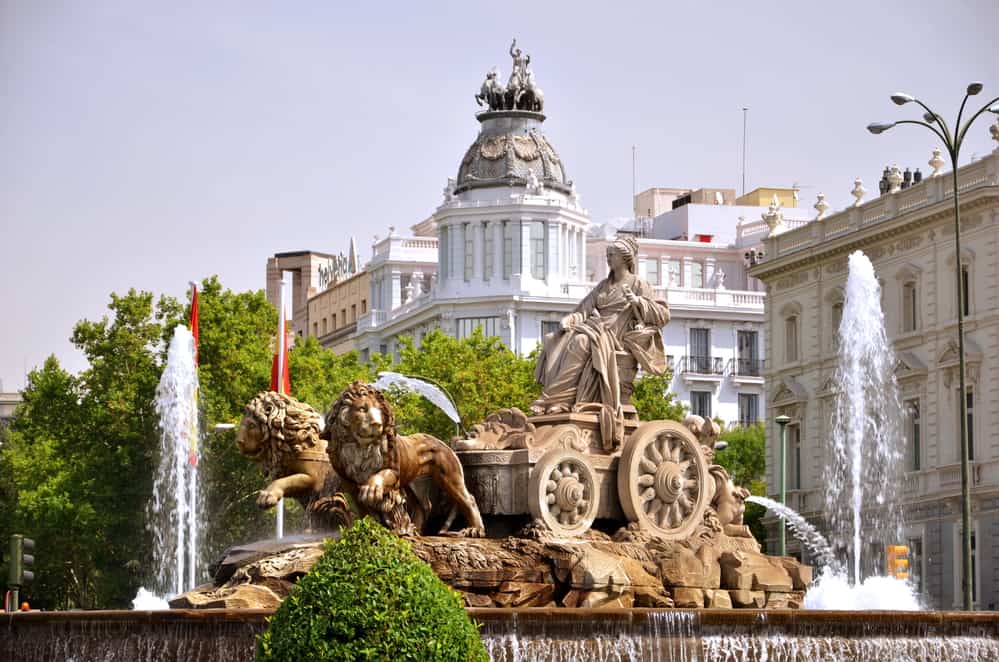 Madrid is synonymous with history and architecture, and on foot is the perfect way to take in every detail.
When you wander the cobbled streets, you can see history right in front of your eyes from the Moorish origins of the city to the influence of the Spanish Empire.
Visit Iconic Landmarks Like Puerta Del Sol And Plaza Mayor
Puerta del Sol is known as the Heart of Madrid and is a great location to visit on foot. It features the iconic statues El Oso y El Madroño – the Bear and the Strawberry Tree – which have great local significance.
Plaza Mayor is another iconic landmark, with a rich history that includes executions, trials, markets, and bullfights.
Enjoy Tapas Hopping At Local Bars And Eateries
Madrid is famous for its food, and tapas is the perfect food to experience on foot. You can move from one bar to another, sampling just one or two specialties at each place.
Each neighborhood has its own unique flair, with high-end gourmet dishes on offer in Salamanca, and more traditional fare such as Patatas Bravas, Croquetas, or Jamón ibérico in La Latina.
Discover Art And Culture At Museums Like The Prado And Reina Sofia
If you're an art lover, you can't miss visiting Prado Museum. It features European art from as far back as the 12th Century!
If you're more into modern art, you can view Picasso's famous Guernica at the Reina Sofia, as well as other modern masterpieces.
Shop At Bustling Markets Like Mercado San Miguel And Mercado De La Cebada
Mercado San Miguel is a must-visit and the perfect place to stroll through if you're after gourmet delicacies. Housed in a striking historic building, it's ideal for trying delicious local foods.
If you want to go where the locals go, Mercado de la Cebada in the La Latina neighborhood is perfect.
Featuring a huge array of fresh produce including seafood, meat, and vegetables, it's the ideal place to walk through and really get a sense of the real, authentic Madrid.
Attend A Live Performance At Teatro Real Or Teatro De La Zarzuela
If you're looking for a splurge, attending a live performance at Teatro Real is a must-do!
Featuring world-class opera, ballet, and other musical performances in opulent settings, you'll feel transported to another world!
For those interested in Madrid's musical history, attending a performance at the Teatro de la Zarzuela is unmissable. The theater is used for showcasing traditional zarzuela music and is a great way to immerse yourself in local culture.
Walk Along The Scenic Manzanares River
The Manzanares River is a popular place to stroll for tourists and locals alike. Featuring pedestrian pathways and recreational areas, it's great for when you're in the mood for a waterside stroll!
Some Tips For Walking In Madrid
Wear Comfortable Shoes For Walking
A lot of Madrid's streets are made of cobblestones or uneven paving, which makes comfortable shoes essential! Make sure your shoes are sturdy and well-cushioned with good ankle support. They will not only keep you comfortable but also prevent potential sprains or injuries. Your feet will thank you after a day of exploring!
Stay Hydrated, Especially In Warmer Months
Madrid is known for its scorching sun and hot summers. Take a water bottle and make sure you drink regularly. You'll be able to refill your water bottle at local parks and fountains.
Carry A Map Or Use A Navigation App
It's easier to get lost than you might think in Madrid's labyrinthine streets! A map or a navigation app makes sure you can find your way without hassle.
Observe Pedestrian Traffic Signals And Crosswalks
Although it's a pedestrian-friendly city, it's still important to be aware of traffic. Use designated crossings and be sure to watch out for cyclists and mopeds!
Be Aware Of Pickpockets In Crowded Areas
Pickpockets are an unfortunate reality in any big, touristy city. Make sure your belongings are secured, and invest in anti-theft bags if possible.
Enjoy The City's Architecture And Street Art
There's just so much to see; make sure you're looking around you and not at your map! Even the regular city streets feature architectural wonders, and many neighborhoods also boast vibrant murals and street art.
Take Breaks And Rest In Parks Or Cafes
Exploring on foot is great, but it can be tiring! Make sure you take plenty of breaks in local parks and eateries. This will give you time to rest and recharge so you can get back to your exploration!
Respect Local Customs And Cultural Norms (Do Your Research Beforehand)
Knowing about local customs can only enhance your travel experience in Madrid. Do your research and make sure you're aware of common local siesta hours, dining times, and etiquette to make your interactions smoother.
Ask Locals For Recommendations And Directions
Talking to locals is a great way to get to know any city! Locals can give you tips and suggestions you won't find in tourist guides, and engaging with locals will enrich your overall experience.
FAQs On Madrid's Self-Guided Walking Tour
Can you get around Madrid without a car?
Yes, Madrid is extremely walkable and offers an excellent public transportation system. Buses, metros, and taxis are easily accessible, making it simple to explore the city without needing a car.
Is it safe to walk around Madrid alone?
Madrid is generally considered safe for solo travelers. Standard precautions, such as staying aware of your surroundings and avoiding poorly-lit areas late at night, can ensure a secure and enjoyable experience.
Can you walk around Madrid at night?
Absolutely. Madrid has many well-lit, bustling areas that are safe for nighttime walks. Whether you're exploring lively neighborhoods or enjoying late-night eateries, the city offers a vibrant nightlife that's welcoming to pedestrians.
What are the best times of day to walk in Madrid?
It depends on your preference, but early morning and evening are great times to avoid the heat and the crowds. These periods help you avoid the heat during summer months and provide a more relaxed atmosphere away from the daytime crowds.
What are some of the challenges of walking in Madrid?
The main challenges of walking in Madrid include pickpockets in busy areas, uneven walking surfaces that may require careful navigation, and the hot summer sun that calls for proper sun protection.