11 Best Neighborhoods To Stay In Madrid (Plus Tips on How To Choose)
Madrid is one of the most charming cities in Europe, with a bustling energy that makes it ideal for tourists. But with so much to offer and explore, how do you choose the right part of Madrid to stay in during your holiday?
Knowing which neighborhood is best can be the difference between a truly amazing holiday and a bad one. If you're looking for tips on finding the perfect Madrid neighborhood for you and your family's stay, look no further!
This article will show you 11 top picks for where to stay in Madrid and offer tips on choosing which neighborhood is best for you.
Overview of Madrid's neighborhoods
Exploring the neighborhoods of Madrid unveils an array of intricate undiscovered gems, from vibrant nightlife spots and local eateries to stunning Gothic, Roman, and Moorish architecture.
Mapping Madrid can be a time-consuming task, but it is definitely worth it! There are 21 municipalities that make up the city, each offering something unique. Each district varies in atmosphere, taste, and culture. Barrios like Lavapies, Malasana, and Chueca boast interesting street art, fantastic restaurants, and buzzing bars. Then there's Retiro and Salamanca; lush parks combined with high-end boutiques make this area the ideal combination of pleasure-seeking elegance.
You may also want to wander through Hortaleza for funky local cafes or Alcala de Henares for its wealth of historical wonders, or Sol for countless tapas bars. Further north, you'll find fascinating boroughs like Vallecas, which preserves a strong traditional Spanish identity, or Puente de Vallecas, with authentic markets, quaint stores, and tree-lined boulevards.
For the quintessential charm of historic architecture, head to Villaverde, which has rich Moorish influences with whitewashed structures abound! These are just some examples of what Madrid has to offer. So come discover one more extraordinary corner of this amazing city!
Here are some of our favorite ones…
Madrid Centro – A Historic Neighborhood in Madrid
Centro is a vibrant, bustling, and historic neighborhood in the heart of Madrid. It is famous for its beautiful plazas, stunning architecture, and old cobblestone streets. There are also plenty of shops, cafes, restaurants, and bars to explore.
The main attractions in Madrid Centro are the Plaza Mayor, which has been the center of Madrid since 1580; the magnificent Royal Palace; and the El Retiro park. Other sites include numerous churches, cathedrals, and many art galleries and museums such as Prado Museum and Museo Reina Sofía.
With its lively atmosphere full of music, culture, and tradition combined with modernity – Centro boasts an unparalleled charm that attracts tourists from around the world. It provides an ideal ambiance for discovering this great city while shopping or enjoying delicious tapas at one of its countless restaurants.
This charming barrio is a paradise for tourists and locals looking to have fun or relax after a long day at work. With great transit connections, you can quickly get around town to explore all this distinctive neighborhood offers.
A trip to Plaza Santa Ana in Centro is a must for anyone looking for the perfect night out. This hub of activity is home to an array of restaurants, bars, cafés, and even a theatre and cinema.
Centro is a must-visit destination when exploring Madrid! It's a perfect destination if you're looking to experience the essence of Spanish culture, where ancient customs come alive with flamenco music, delicious cuisine, remarkable monuments, and genuine hospitality everywhere you go!
Malasaña & Chueca – Hubs for culture and nightlife
Malasaña and Chueca are two neighborhoods of Madrid, Spain, located in the city center. Known for their lively atmosphere and vibrant cultural life, they have become a hotspot for locals, expats, and visitors alike.
Malasaña is known for its unique cultural scene, with plenty of shoegazing venues and fanzines distributed on the street. There are lots of great restaurants and cafes to explore, from classic tapas dishes to more modern fusion restaurants. Rastro flea market is also a must-see destination in the neighborhood as it is the largest flea market of the city, as well as the Lope de Vega theatre.
Chueca is a more cosmopolitan area, full of designer shops, art galleries, and theaters. It's home to numerous gay bars and clubs and some great tapas places. The area also offers many rooftop bars. During Madrid Gay Pride celebrations, this neighborhood comes alive with colorful processions that go on late into the night! Do not miss Plaza de Chueca and get lost in the narrow streets of this unique neighborhood.
The two neighborhoods offer plenty of sights to enjoy during any visit to Madrid. Whether it's just visiting the famous Mercado de San Miguel Food Market or immersing yourself in the culture at MATADERO Madrid contemporary culture center, there's always something new to explore here!
Lavapies and La Latina – The bohemian neighborhoods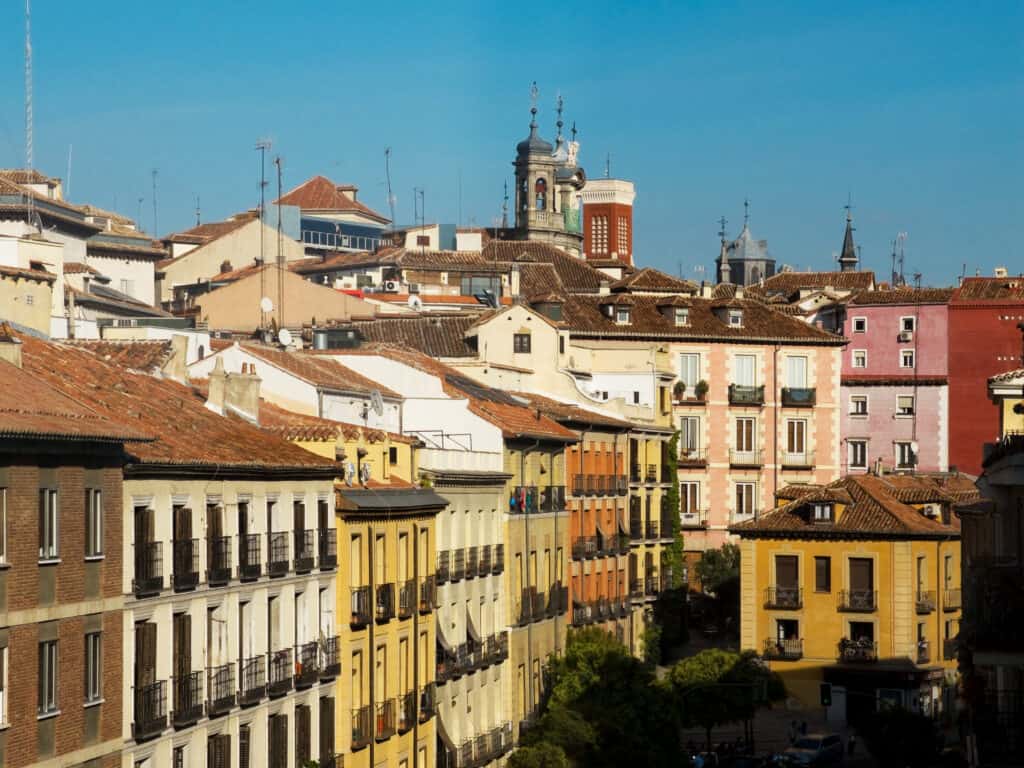 Lavapies and La Latina are two perfect neighborhoods to explore if you're looking for some culture in Madrid. Located right in the center of Madrid, these districts offer a fantastic mix of traditional Spanish flavor, nightlife, and cultural hotspots, all wrapped up within an urban atmosphere.
Located in the heart of Lavapies is the vibrant community area known as Tirso de Molina. This is a great place to soak up the cultural vibes, learn about street art, and watch performances from flamenco musicians and groups of local street performers. Here, visitors can also discover delicious tapas bars, traditional taverns, and independent restaurants where they can sample the local cuisine.
The Regulares Market is also located here, where locals come to get their fresh fruit and veggies from its colorful stalls. Right around the corner from La Latina is Puerta de Toledo – a stunningly impressive gate constructed during Carlos III's reign to celebrate the coronation of his grandson Carlos IV. Moving away from La Latina Plaza Mayor Square, this historic area leads through popular attractions such as La Merced Church or San Isidro Cathedral – both filled with unique architecture, although dating back centuries ago!
La Latina has just as much character packed into it as Lavapies with views across Madrid's town center. Famous alleyways like Cava Baja feature cobblestone streets that meander towards more modern attractions like El Rastro flea market – one of Spain's oldest markets offering vintage items, antiques, bric-a-brac, and handmade goods that give it a unique sense of character unique to only this region of Madrid. Away from markets, tourists can experience traditional Spanish nightlife by visiting classic dive bars serving drinks until late into the night – usually served alongside Spanish delicacies such as Jamon Iberico or other small snacks or traditional pancake dishes like torrijas con miel!
On top of that, those areas have many budget hotels and hostels, as well as a vast selection of eateries and bars. Of course, there are also 3-Star hotels in the area if you're looking for something more luxurious.
For those looking to explore something different next time, they visit Madrid, then Lavapies and La Latina are definitely worth taking into consideration since they provide unforgettable experiences that are both culturally rich yet lined with some juicy history around every corner!
Salamanca – Affluent district popular with tourists
The Salamanca neighborhood of Madrid is a vibrant and stylish district located just east of the city center. It is known for its elegant storefronts, chic boutiques, and high-end restaurants. The area was developed around the mid-19th century, and its main attraction is the impressive Paseo de la Castellana. This boulevard cuts through the neighborhood connecting it to the nearby business district of downtown Madrid.
Salamanca is also home to several famous landmarks such as the City Hall building, Centro de Arte Reina Sofía museum, Puerta de Alcalá gateway, Plaza de Cibeles square, Retiro Park, and Teatro Real opera house. Along with major shopping centers like Arizona Shopping Center or El Corte Inglés, Salamanca offers various leisure options such as cafes and art galleries.
Being an affluent residential area in Madrid, Salamanca comes alive at night with numerous clubs, bars, and venues around Calle Goya or Plaza del Falla street corners. Here you can find some of the best nightlife in town, always charged with great energy from locals and tourists alike!
If you're looking for a modern hotel or a 4-Star hotel in the heart of Madrid, Salamanca is the ideal choice. It's conveniently located near all major attractions, and there are a plethora of restaurants, bars, and stores in close proximity.
Apart from its obvious beauty and cultural appeal, this area's main advantage is its close proximity to other iconic places in town like Paseo del Prado avenue or Gran Vía street. All around, you'll find plenty of irresistible sights that summon anyone curious about discovering this beautiful district!
Chamberí – Hip, residential neighborhood near the center
Chamberí is an old and traditional neighborhood of Madrid, located between the Paseo de la Castellana and Gran Vía. The neighborhood has a long history and many hidden treasures. It was first founded as a small village in the 14th century and continued to thrive with several additions through the 18th century when it became part of Madrid.
Nowadays, Chamberí is well known for its wide variety of restaurants, cafes, and tapas bars that offer classic Spanish cuisine and modern international dishes. For shopping enthusiasts, the area also provides an array of boutiques and stores carrying unique clothing items from around the world. The local markets are also great places to pick up fresh produce or artisanal products.
Chamberí is not just about dining and shopping – plenty more attractions make it one of Madrid's most popular neighborhoods. Its stunning parks, like Parque del Oeste, provide wonderful nature experiences for those looking to escape the hustle and bustle of city life for a few hours. Stroll around Parque de El Retiro or admire some of Madrid's finest art museums, such as Museo Nacional Centro de Arte Reina Sofia or Museo Thyssen-Bornemisza which can all be found within walking distance from each other in this beautiful part of town.
Chamberí is truly a gem amongst all others in Madrid with its amazing selection of activities, both indoor and outdoor making it perfect for locals or travelers looking to get acquainted with Spanish culture while enjoying a few days in this vibrant city!
Carabanchel & Puente de Vallecas – Multicultural enclaves
Carabanchel & Puente de Vallecas are two vibrant neighborhoods in Madrid. Located in the south of the Spanish capital, they provide a diverse mix of culture, sights, and attractions to explore.
Carabanchel is an old working-class neighborhood that provides visitors with historical buildings, monuments, and parks to discover. The center of Carabanchel contains several notable landmarks, such as the Parque de la Mula and the Carabanchel Alto Municipal Park. Nearby is the Monasterio de La Descalzas Reales, a beautiful sixteenth-century church and monastery complex. There's plenty to do in this area for shopping enthusiasts, from small local shops to more giant malls like La Gavia or Isla Azul Shopping Center.
Puente de Vallecas has more modern buildings and a youthful atmosphere due to its college student population. This district has unique art galleries, such as Galería NOVA Libro y Arte or Exit Through The Gift Shop. In addition, there's a variety of noteworthy venues, like Teatro Pradillo or Sala El Sol – one of Madrid's hidden gems as far as music venues go. But perhaps most notably, Puente de Vallecas houses Shopping Carrefour Paseo Extremadura, where you can find pretty much everything – from grocery stores for everyday shopping, restaurants for every palate and budget up to electronics superstores, making it an ideal spot whenever you're in need for anything during your stay in Madrid.
Carabanchel & Puente de Vallecas offer exciting experiences for everyone visiting them – from handmade souvenirs at local Tibetan areas to delicious tapas with some big names like La Trastienda singing artists while enjoying beer – these neighborhoods have something special waiting around every corner!
Usera & Villaverde: Residential districts beyond the center
Usera & Villaverde are two of the oldest neighborhoods in Madrid. Located in the southeast part of Madrid, the area is full of parks and gardens, offering plenty of green spaces for locals to enjoy.
The area has many cultural and architectural gems, including some of Spain's most impressive landmarks, like La Almudena Cathedral and the Palacio Real. Besides a long list of exciting sights and attractions, there are many shops and eateries to explore too.
Madrid's favorite hangouts like El Rastro flea market, Canal District, Plaza Mayor, or Principe Pio shopping mall are within walking distance from Usera & Villaverde. There is no shortage of projects dedicated to neighborhood regeneration either – helping increase its livability further.
Connectivity to central parts of Madrid is easy thanks to Metro Line 1, which links Usera & Villaverde with both Plaza de Espana and Sol in only 20 minutes, not including local buses and bicycles available throughout the city center.
Usera & Villaverde are two historical areas that have seen an upsurge in retail stores and restaurants over recent years attracting creative entrepreneurs hoping for higher visibility due to their fantastic location near iconic tourist destinations. The rent prices here are reasonable compared to other popular quarters nearby, making this an excellent option for those looking for an affordable slice of Spanish living. A perfect place if you want access to all Madrid offers without paying sky-high prices!
---
FAQ
How to choose your neighborhood in Madrid?
Choosing your neighborhood in Madrid depends on your budget and what kind of trip you're looking for. If you want to stay in a budget hotel, consider the Centro district or Lavapies as great options. If a 4-Star hotel sounds more luxurious, look into areas like Salamanca or Chueca. And if attractions are your priority, check out places like La Latina or Puerta del Sol. To make sure you get the best out of Madrid, it's essential that you research where the top attractions are located and choose accordingly!
How to navigate from one neighborhood to the other?
Navigating Madrid can be tricky. But you don't need to worry! The best way is to find the nearest train station to get from one neighborhood to the other. Stations like Chamartin, Atocha, and Acacias are perfect for getting around the city quickly and easily.
Once you find your train station, the journey will be super simple. All you need is a ticket that can take you wherever you want to go in Madrid. So whether it's Prado or Puerta del Sol, getting around couldn't be simpler.
Plus, any metro station in town or buses that serve most of Madrid's neighborhoods makes transportation even easier. So don't hesitate and find your way from one neighborhood to the other with a little help from Madrid's amazing public transport system!
What are the safest neighborhoods in Madrid?
Safety is a top priority for many when choosing a neighborhood. Luckily, Madrid has an abundance of secure spots to call home. Here's a look at some of the city's safest areas:
Chamartín: This upmarket zone is popular among locals and expats alike. Here you can find universities, embassies, and tech start-ups alongside parks and green spaces—all tucked away in a quiet oasis.
Salamanca: Trendy Salamanca boasts one of Madrid's highest concentrations of international stores, penthouses, and luxury apartments. Its popularity comes from the range of cultural attractions like restaurants, galleries, and theaters.
Retiro: Despite being the heart of central Madrid, Retiro offers wide boulevards ideal for long strolls or bike rides through its manicured gardens. On Sundays, locals flock to its market stalls jam-packed with tasty treats and trinkets.
Ciudad Lineal: One of Madrid's trendiest districts has recently been transformed thanks to its beautiful high rises and renovated Metro lines courtesy of modern development projects. The area also enjoys zero crime rates due to City Council's dedicated watch programs, which keep streets safe at all times
What are the areas to avoid in Madrid?
Madrid is an exciting city with great culture, impressive architecture, and dynamic nightlife, and it is a safe city. Still, it pays to be aware of dangerous areas in the city.
For starters, Calle Montera is a place to avoid as it can be populated by pickpockets and scam artists. Similarly, La Latina's street-level bars can seem inviting but can also be full of unsavory characters.
Additionally, parts of Plaza Mayor and Puerta del Sol often throng with tourists making them good spots for pickpockets. Cruz Blanca market is also not advisable due to its reputation for crime.
Finally, Illashe Bilbao in the Chueca district may have high rates of petty theft, so one must keep an eye out for pocket snatchers when visiting this area.
What is the best area to stay in Madrid for nightlife?
Madrid is known for its vibrant nightlife, with various bars, clubs, and restaurants to explore. Choosing the right area to stay in can make all the difference in having a great night out.
For those looking for a lively atmosphere and plenty of entertainment, Chueca is an ideal choice. Sitting at the heart of Madrid's vibrant LGBTQ+ scene, Chueca offers traditional tapas bars, modern cocktail lounges, and nightclubs playing everything from Latin music to indie rock.
Touring Thuillerias and Malasaña are popular areas for lively night owls who enjoy historic venues buzzing with eclectic beats or trendy bars offering craft beers and DJ sets in converted flats.
Sol is perfect for those seeking classic Madrid vibes; vintage taverns playing live jazz offer an unexpected ambiance alongside glitzy casinos and late-night karaoke joints. Meanwhile, Huertas has some great upscale global eateries which transform into bustling bars brightening up Calle de las Huertas long after midnight.
No matter which area you choose, Madrid's exciting atmosphere ensures there's always something exciting on offer no matter what time or day it is – the best way to get where you want to go is by walking around the neighborhoods at night!
What are the best neighborhoods in Madrid for families?
Families will delight in all Madrid offers – its abundance of outdoor activities and cultural attractions, delicious restaurants, and lively environment. To make your search easier, we have some tips for choosing the perfect neighborhood for families.
Chamberi is one of Madrid's oldest districts, with beautiful parks and squares that give off an authentic air. It's close to many museums and galleries, making it an ideal spot for family-friendly art walks. There's also good access to public transport, which makes commuting or sightseeing easy.
Malasaña is known for being hip, happening, and vibrant – yet, at the same time, incredibly child-friendly. An eclectic mix of business owners makes this district extremely diverse; you'll find everything from designer boutiques to vintage stores, as well as green spaces where children can play freely.
Salamanca has plenty of heritage sites, shopping malls, and cozy family restaurants that cater to all tastes. This area has excellent schools if you want your kids nearby, plus fun attractions like entertainment centers and themed cafes.
These are just a few of the best neighborhoods in Madrid for families – so if you're looking for a safe yet exciting place to raise your kids while still having access to all the city has to offer, it might be worth considering these areas first!
In which neighborhood do I find the best shopping streets?
Madrid has some of the best shopping streets in Europe! From designer names to vintage boutiques, there's something for everyone.
The Lavapies neighborhood is filled with great local shops and art galleries. Nearby Malasaña is home to lots of cool vintage finds.
Head to Calle Fuencarral near Chueca for trendy shops and one-off stores. Sol is the go-to spot for high-end brands and big department stores. Or visit Salamanca, known as Madrid's 'Golden Mile' – home to exclusive luxury stores and acclaimed restaurants.
Whatever type of shopping you're looking for, Madrid has it all!
What is the best place to stay in Madrid for the first time?
For first-time visitors to Madrid, the best place to stay is the Puerta del Sol area. This iconic location lies at the heart of the Spanish capital and offers an excellent mix of cultural attractions as well as a wide range of restaurants, pubs, and shops. Numerous accommodation options are available in the area, from affordable hostels to luxury hotels such as The Westin Palace Madrid. If you're looking for convenience and proximity to some of Madrid's most popular tourist spots, Puerta del Sol is the ideal choice.
What is the very center of Madrid?
Tucked away in the heart of Madrid is Puerta del Sol, one of the oldest and busiest landmarks of the city. It's the symbolic center from which all distances to other Spanish cities are measured.
What is the hipster area of Madrid?
Malasaña is Madrid's quintessential hipster neighborhood. It's home to trendy restaurants, vintage stores, indie cafés, and eclectic bars. Boasting a unique mix of artistry, counterculture, and old-fashioned charm, its streets come alive each weekend with a vibrant nightlife despite the current pandemic restrictions. With a lively ambiance, visitors can expect plenty of traditional Spanish cuisine and culture. From vegan hotspots to modern art galleries, it's no wonder Malasaña has become an iconic part of the capital city's cool culture.
What are the coolest neighborhoods in Madrid?
Madrid has so many vibrant quarters it can be hard to decide which are the coolest and most trendy neighborhoods. Malasaña and Chueca are trendsetting districts in the city center, alive with eclectic bars, fashion-forward shops, and gastronomy scenes.
La Latina is a historic barrio full of authentic restaurants, terraces, and vivid nightlife that harks back to days gone by. Lavapies is becoming Madrid's hippest neighborhood with its mix of traditional bars, cozy eateries, quaint cafes, and hip galleries.
Also worth exploring is Chamberi with its chic aesthetic and bohemian air; residential Salamanca, famed for its designer stores; and Chamberí's bustling Fuencarral street, increasingly popular amongst younger generations.
Is Madrid a walkable city?
Meandering Madrid is a pedestrian's paradise. Despite its buzzing urbanity and expanding population, the Spanish capital remains pleasantly navigable by foot.
At a distance of 8km, Madrid's iconic Plaza Mayor marks one end of the Gran Vía — the vibrant city's major avenue. With plenty of trees on both sides and room to swing a cat, it is perfectly traversable without waiting for the accompanying traffic lights to give pedestrians their tardy green "go ahead".
The cool thing about walking in Madrid is that you don't need Google Maps; almost all streets lead to the picturesque Plaza Mayor. Besides, symmetrical avenues make sense once you get used to them. On top of that, many travelers have found respite from this Spanish capital's densely populated core by taking an afternoon stroll along some of its terrific tree-lined walkways or alleys – or what locals call "huertos".
If you're in need of some rest after a long day walking, you can take advantage of one of the many nice rooftop terraces views that the city has to offer!
All in all, Madrid is one graceful city designed for feet rather than wheels!
---
Summary – Which neighborhood to choose?
When visiting Madrid, the neighborhood that you should choose depends on what you're looking for.
Popular and lively neighborhoods include Malasaña and La Latina, where you can find buzzing nightlife, charming cafés, great restaurants, and plenty of shopping opportunities. For a more traditional experience, head to nearby Barrio de las Letras or Lavapiés — two areas close to the heart of Madrid packed with culture and history. If luxury is your aim, look no further than the Salamanca district — home to designer boutiques and some of the city's best restaurants.
Those looking to explore nature in between their urban adventures might want to head to Retiro Park — Madrid's largest green space in the middle of the city! You'll find a tranquil oasis filled with sprawling gardens, fountains, and vast lakes.
Madrid's wide array of different neighborhoods offers something for everyone — whether you're looking for a vibrant atmosphere or nature trails for an escape from the hustle and bustle. No matter which one suits your interests best, there is something for everyone in this dynamic Spanish city!